I won a copy from Goodreads First Reads.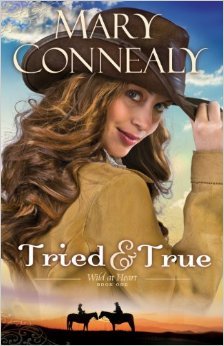 "Saddle up for a wildly fun ride with the Wilde sisters!





Kylie Wilde is the youngest sister—and the most civilized. Her older sisters might be happy dressing in trousers and posing as men, but Kylie has grown her hair long and wears skirts every chance she gets. It's a risk—they are homesteading using the special exemptions they earned serving in the Civil War as "boys"—but Kylie plans to make the most of the years before she can sell her property and return to the luxuries of life back East.





Local land agent Aaron Masterson is fascinated with Kylie from the moment her long hair falls from her cap. But now that he knows her secret, can he in good conscience defraud the U.S. government? And when someone tries to force Kylie off her land, does he have any hope of convincing her that marrying him and settling on the frontier is the better option for her future?"
Wow. Tried & True is the weirdest (I'm being very polite here, so if you are the author, please avoid this review because it is only going to deflate your self-confidence) book I'd ever read. In a way, you have Mulan plus two sisters plus a dead brother plus the wild west (at least, that is what it seems) plus Christian values plus a jealous woman plus cliches plus some other things. But mostly, I want to point out the cliche. Or a lot of them. Pretty much, I was eye-rolling at the first chapter. And the second. So unless you were drunk or high (on sugar, of course), Tried & True is probably not a good experience for you. And definitely not a good experience for me.
The land agent's POV (Aaron Masterson) sounds horribly romanticized. I'm not even kidding. He probably has 1) a hair fetish or 2) a very severe case of having wrong characteristics. I, for one, know that men do not pay attention to the smallest pieces of hair. Or talk endlessly about how beautiful a woman is. More likely, he would be talking about what a good cook she is and not about her hair (unless he has the weirdest hair fetish ever).
Should I also mention that the author's husband's name is also Aaron? Kind of creepy... And it is a total weird thing, because... Should I assume that the author based Aaron Masterson on her husband? (It is very likely).
Kylie is a better written character than Aaron. Aaron's POV just makes me gag. Men are definitely not Prince Charmings who are selfless... Okay, you know what. I'm going to stop here. I'm obviously going to rant on and take this out on all you guys. Totally unfair of me. Breathe. Breathe. Breathe. (I'm holding back pretty well, actually). Kylie Wilde is probably an inside joke for the author. Wild, Wilde. Homophones. Anyway, I think Kylie is more understandable (compared to Aaron) and a bit more tougher than an usual lady. Of course, she pretends to be a man, so...
Mulan?
Overall, if I had a choice, I would not read Tried & True. It is just a bit too much for me. The romance is a bit overrated. The story is kind of eh... It is a hot mess. I wish the author did a bit more background (world-building). Half of the things didn't make any sense, and some of things made me convinced that Kylie was insane.
Rating: One out of Five