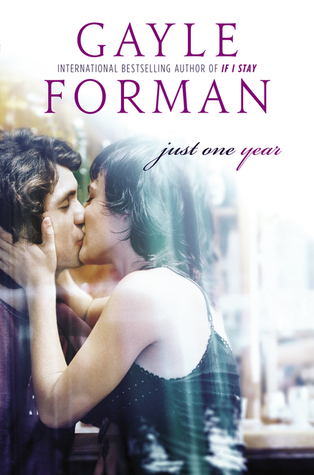 "Just One Day. Just One Year. Just One Read.

Before you find out how their story ends, remember how it began....



When he opens his eyes, Willem doesn't know where in the world he is—Prague or Dubrovnik or back in Amsterdam. All he knows is that he is once again alone, and that he needs to find a girl named Lulu. They shared one magical day in Paris, and something about that day—that girl—makes Willem wonder if they aren't fated to be together. He travels all over the world, from Mexico to India, hoping to reconnect with her. But as months go by and Lulu remains elusive, Willem starts to question if the hand of fate is as strong as he'd thought. . . .





The romantic, emotional companion to

Just One Day

, this is a story of the choices we make and the accidents that happen—and the happiness we can find when the two intersect."
Just One Year is even better than Just One Day. Maybe some of you didn't like Allyson's POV. Maybe, maybe not. I personally felt that Allyson was a great character but she was a bit of a coward who was afraid to get hurt again and open herself up.
Willem, on the other hand, was a bit more legendary. He was so close to finding Allyson, but he gave up. Still, he never forgot about Lulu. That makes my eyes tear up a bit. One day. Paris. Romance. It is pretty much all the ingredients you need to swoon. He never forgot about Lulu, but he was a bit... Deep. And he did a lot of weird things. But there are some parts of the book that just turns out so right that you have to read it.
Even better about Just One Year is that you discover Willem's past.
Gayle Forman uses much parallelism. She draws similarities from Willem's parent's relationship. Using that, she manages to dig deeper inside of Willem and let us see more of the hidden parts. And yes, it is beautiful.
Shakespeare, of course, plays a large role in this series. In the first book, Allyson realizes that all the players are actors and no one is who they truly are. In the very same book, I started to believe that all plays aren't meant to be sitting on paper and read. They are meant to be played. In Just One Year, we see it from the actor's side. I saw that it took many layers for actor, and yes, it does take truth. Willem pulls off his role quite nicely, even though he isn't Sebastian.
The ending, however, was crazy. Why the heck did it end in a cliffhanger? And I do I seriously need to buy that short story? Forget about it. I'm going to borrow someone else's copy. I don't want to pay 99 cents for a 40 page short story. Even if it does conclude this series.
Overall, Just One Year is great. I can't wait for the final conclusion, but it looks like I'm never going to know what it is. Very sad. Oh, well. There are more books to read. But I think I'm definitely rereading Just One Day and Just One Year later in the future. Maybe to compare and contrast If I Stay and Where She Went.
Last word: Willem is awesome.
Rating: Four out of Five