I won a copy from Goodreads First Reads.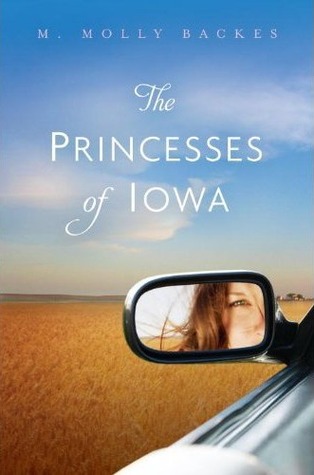 "What does it mean to do wrong, when no one punishes you? A smart and unflinching look at friendship, the nature of entitlement, and growing up in the heartland.





Paige Sheridan has the perfect life. She's pretty, rich, and popular, and her spot on the homecoming court is practically guaranteed. But when a night of partying ends in an it-could-have-been-so-much worse crash, everything changes. Her best friends start ignoring her, her boyfriend grows cold and distant, and her once-adoring younger sister now views her with contempt. The only bright spot is her creative writing class, led by a charismatic new teacher who encourages students to be true to themselves. But who is Paige, if not the homecoming princess everyone expects her to be? In this arresting and witty debut, a girl who was once high-school royalty must face a truth that money and status can't fix, and choose between living the privileged life of a princess, or owning up to her mistakes and giving up everything she once held dear."
The Princesses of Iowa reminds me of Dead Poets Society. Except that Mr. Keats is Mr. Tremont, who is possibly gay (rainbows) and very handsome. Like Mr. Keats (RIP Robin Williams), he teaches students about life. He teaches them to express their feelings through words and little journals. He teaches them to ignore the rules and go pass them to get the deepest and rawest piece of work, of that voice in the head. I seriously cried on that part. It was pretty good. Like "O Captain! My Captain" part from Dead Poets Society.
Paige Sheridan is a bit whiny (okay, I'm being very nice to her), totally a princess (though not of real title, of course), and snobbish. However, her layers of character are exposed as the plot progresses, and she does change (yes, she is a dynamic character; thank you very much, English class). It is around the three fourths point when she starts changing for the better. She is a total idiot (who isn't?) and she ends up fixing her mistakes and finding where she belongs.
The Princesses of Iowa touches very close to home. It reminds us that life isn't fair. It tells us to draw that passion and anger and emotion to write out your feelings (no, this doesn't sound "gay") and imagine a better world (thank you, John Lennon). (My subconscious just happens to feel so talkative today). And it makes me feel like I fail as a writer. Definitely not as a reviewer. Just as a student of English class. No emotion at all. Okay... This is getting a bit awkward.
Ethan is the love interest, and he is awesome. No other words for him. And I'm not even going to be talking about him, because I really like him as a character.
Jake, on the other hand, is a bit more complicated, and he is very dark. He has peer pressure coming from his friends, pressure from his parents, and even pressure... Oh, crap. I can't talk about that. That is crossing the line of spoiler. Anyway, I find him far more interesting than Ethan, but Jake is a huge bag of little Richards.
Overall, The Princesses of Iowa belongs to the genre of contemporary, friendship, romance, love, DIEDD (drunk driving and its consequences; this is a reference to the book, by the way), and of course, YA.
This book is recommended to anyone above the age of fourteen. There are some parts in here that are so vivid.
Vivid. I'm so done today. Have a good day, everyone.
Rating: Four out of Five