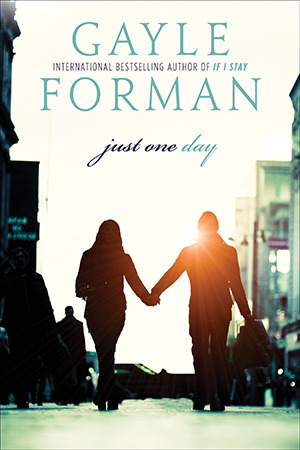 "From the New York Times bestselling author of If I Stay



Allyson Healey's life is exactly like her suitcase—packed, planned, ordered. Then on the last day of her three-week post-graduation European tour, she meets Willem. A free-spirited, roving actor, Willem is everything she's not, and when he invites her to abandon her plans and come to Paris with him, Allyson says yes. This uncharacteristic decision leads to a day of risk and romance, liberation and intimacy: 24 hours that will transform Allyson's life.





A book about love, heartbreak, travel, identity, and the "accidents" of fate,

Just One Day

shows us how sometimes in order to get found, you first have to get lost. . . and how often the people we are seeking are much closer than we know.





The first in a sweepingly romantic duet of novels. Willem's story—

Just One Year

—is coming soon!"
Just One Day is a sweet, sweet story. If If I Stay is half as good as Just One Day, I'll be reading it. From the number of posts and articles on the Internet, it looks good. Maybe I'll be reading it. Maybe I will not. But I truly liked Just One Day. It really helped me understand Shakespeare in a better way. Oh, my goodness. Why am I talking about Shakespeare? I should be focusing on Allyson Healey, the American, and Willem de Ruiter, the Dutchman.
Allyson's life is certainly changed after just one day. After meeting Willem, she is forever changed, and she doesn't just become someone else, she becomes someone who met someone and found a spark of chemistry. Willem teaches her to be alive. Willem teaches her about chance, and all his other little things. Willem, undoubtedly, changed her permanently.
And the most beautiful part is that they did it all in Paris, France. (Well, it is obvious that it is Paris, France, but I hope you don't get it confused with Paris, Yukon, Canada). The thing about Paris is that it is a strange yet also magical place. Or at least in books and movies. You see the heroine fall in love, and the love story is always epic and legendary. You definitely cry your heart you. You definitely think about other Paris stories and think that this one is the greatest of them all (for sure, but I haven't found one that stumped it), and you think that the lessons in this book are amazing. You have to try. You have to take risks. And eventually, you'll find something that stains... Yeah, I had to do that.
Gayle Forman is amazing in this book. This book, Just One Day, is not a story about the end. It is the story about the journey to find the fate. And she gave me a very healthy respect for Shakespeare. It is funny how I'm now convinced that Shakespeare is a clever fox. A few months ago, I wanted to slit my throat at the words, Romeo and Juliet. I swear, if someone tells me that If I Stay is as good as Just One Day, I'll read it and review it. However, that person can't be anyone who is my enemy, the author, the author's friends, and my enemy's friends.
The ending is the best part. But you'll never understand the ending until you read the middle and the beginning. It is beautiful how Gayle Forman sort of inserts some of Shakespeare quotes and make it come alive. Especially the one that said the world is a stage, and all the people are its players. That one really touched me in my soul. Especially if you listen to "Your Song," "Say Something," and "Out of Reach" while reading Just One Day.
Told from Allyson's perspective, Just One Day is an incredible book. Okay. I have to stop. I'm literally singing the praises off my tongue. I just need to stop.
Last Word: Willem de Ruiter's POV better be interesting. The sequel better be as magical as the first book. It is just awesome.
Rating: Five out of Five