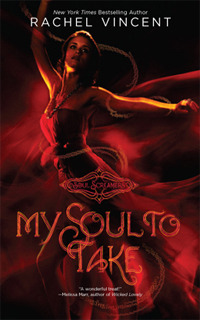 "She doesn't see dead people. She senses when someone near her is about to die.

And when that happens, a force beyond her control compels her to scream bloody murder.

Literally.



Kaylee just wants to enjoy having caught the attention of the hottest guy in school. But a normal date is hard to come by when Nash seems to know more about her need to scream than she does. And when classmates start dropping dead for no apparent reason, only Kaylee knows who'll be next."
Another book that mixes the supernatural with the modern books. Oh, the supernatural includes banshees, grim reapers, and who knows what else? There is definitely more out there. I mean, in this particular fictional world.
My Soul To Take is a good book. I find it refreshing. It may be based on legends and myths, but at least, it isn't about vampires, ghost, or God-forbid idiots. I like it very much. There are no idiots. Or idjits. (Another Supernatural pun).
Kaylee (what an interesting name) is a supernatural creature. She isn't human. Which is interesting. Honestly, I think her parents and uncle and aunt are really crazy. (This is an obvious example of very bad parenting). Why wouldn't they tell her who she really is? At least then, she wouldn't be screaming and trying to hold her screams (or siren's music, as Nash calls it) back. And they would had taught her how to control it. Before she ends up in the loony bin. Oh wait, too late for that. Haha. Not really. Not really. Anyway, Kaylee is interesting. She is loyal and unbelievably stubborn. And ignorant. But she does learn things fairly fast. Fast enough that I don't complain about her. I'm not holding a whip, alright!
And then there is Nash. Thankfully, there is no sign of this book/series being a love triangle, but the author can easily change it into one. Nash is an okay character. There isn't a lot of chemistry about him, and some parts of the book seems forced.
The plot is intriguing, but the conflict isn't very interesting. There are a bunch of dead girls? Eh. Sure they might be dealing with a rogue reaper, but there is something about it that doesn't spark interest or mystery. I'm actually more interested in the world building than the problem. Isn't that amusing?
And my opinion on the book, the legend-based facts? I honestly can't tell you much. I never paid particular attention to banshees until now.
Overall, My Soul To Take seems to be a good start for this series. I think there is a great amount of potential here.
Rating: Four out of Five