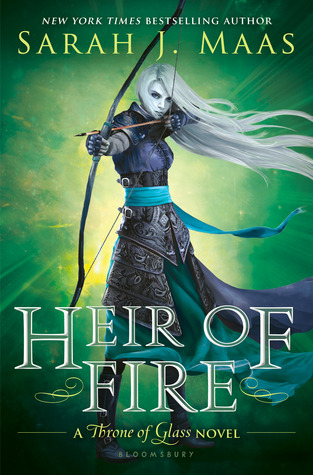 "Lost and broken, Celaena Sardothien's only thought is to avenge the savage death of her dearest friend: as the King of Adarlan's Assassin, she is bound to serve this tyrant, but he will pay for what he did. Any hope Celaena has of destroying the king lies in answers to be found in Wendlyn. Sacrificing his future, Chaol, the Captain of the King's Guard, has sent Celaena there to protect her, but her darkest demons lay in that same place. If she can overcome them, she will be Adarlan's biggest threat – and his own toughest enemy.





While Celaena learns of her true destiny, and the eyes of Erilea are on Wendlyn, a brutal and beastly force is preparing to take to the skies. Will Celaena find the strength not only to win her own battles, but to fight a war that could pit her loyalties to her own people against those she has grown to love?"
Heir of Fire took awhile for me to finish. It was long, and I was really busy with things. It is a good thing I was ahead in my reviews, but I started slipping a few days ago. I manage to keep a good slope, but I think I might slip again.
Anyway, Heir of Fire isn't as good as the previous book in my opinion. Sure, Celaena (crazy name with a very difficult spelling and an unimaginable pronunciation) may had grown in character depth, but I'm still confused about some parts of the book. This, I know for sure: Heir of Fire is definitely better than the first book, which I can't name because I somehow forgot its title. Along with the second book's title.
I'll break it down.
Celaena's ending speech of the book (which is a huge character change from the beginning of Heir of Fire) is remotely similar to the one at the end of the second book. More or less, Celaena ends up stronger and more hopeful to the battle/war ahead. Was that spoilers? Eh... I think not. Most books end up in a somewhat hopeful way. Even the Mark of Athena did that. (Remember Percy and Annabeth about not letting each other go? That was the hopeful part). And I should totally focus more on Celaena, the character and not the ending.
Celaena Sardothien, the character, is bratty. Well, she is most certainly bratty, but I suspect there is a softer side in her. Or a monster. Either way, she uses a mask to hide what is really underneath, and Heir of Fire did a great job of exploring what was underneath all those layers of a bratty, spoiled, rich assassin. And it was amazing.
However, there were some bad parts of the book like the ending. (What? Ending was totally like a repeat, a filler ending reused from previous book. There are some differences, of course). Heir of Fire was told from one, two, three, four, five, six characters. One was Celaena. Two was her former prince, Dorian. Three was Chaol. Four was Rowan. Five was Manon. Six was Celaena's cousin. Oh, and there was a seventh but also minor chapter for another character. Honestly, I'm quite surprised there were so many, but there were a lot of plots going on at the same time. You got Dorian's father. Then Mae (or was it Mab?). Our assassin heroine has a few up her sleeves, and even Dorian's brand new lover seems a bit suspicious.
But I do have to congratulate Ms. Maas for managing to keep it all straight. And yes, it was easy for me to follow along. It was easy but annoying. I couldn't understand why Manon was important other than as the King's weapon. Then there was Rowan. Do I really need a front row seat into his mind? But Choal is a welcome change.
Overall, Heir of Fire could had been better (and cut down), but it wasn't that bad.
Rating: Three out of Five