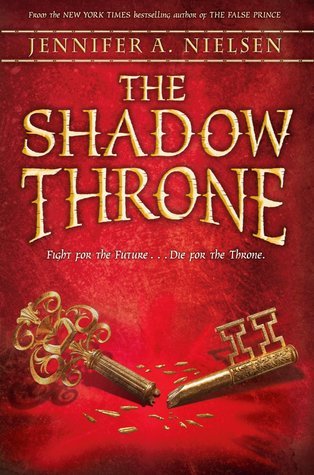 "One war.
Too many deadly battles.
Can a king save his kingdom, when his own survival seems unlikely?



War has come to Carthya. It knocks at every door and window in the land. And when Jaron learns that King Vargan of Avenia has kidnapped Imogen in a plot to bring Carthya to its knees, Jaron knows it is up to him to embark on a daring rescue mission. But everything that can go wrong does.





His friends are flung far and wide across Carthya and its neighbouring lands. In a last-ditch effort to stave off what looks to be a devastating loss for the kingdom, Jaron undertakes what may be his last journey to save everything and everyone he loves. But even with his lightning-quick wit, Jaron cannot forestall the terrible danger that descends on him and his country. Along the way, will he lose what matters most? And in the end, who will sit on Carthya's throne?





Rousing and affecting, Jaron's adventures have thrilled and moved readers in

The False Prince

and

The Runaway King

. Journey once again with the Ascendant King of Carthya, as New York Times bestselling author Jennifer A. Nielsen brings his story to a stunning conclusion with

The Shadow Throne

."
Finally, I finish with this series/trilogy. I will tell you that I enjoy The False Prince very much. The Runaway King is second to that. This book is on the same level with The Runaway King. In my opinion, none of the sequels can hold up to the glory that is the first book.
(And yes, I'm starting to get books off my to-read list. Because there are too many books on there, even though half of them aren't even out yet. But that isn't my point. At all).
The Shadow Throne is definitely an exciting book. (However, it does not exceed my expectations for this series, because The False Prince set it way too high!). There is a good amount of conflict and drama, but I don't exactly like how the story turns out in the end. Yes, it is a Happy Ending, but I don't feel like... Imogen's surprise (spoilers start here) reappearance at the end is really needed. Because I think Jaron already accepted her death, and adding more fuel to that is just even worse. Besides, I expected her appearance at the ending, but it doesn't feel right in the book. It doesn't feel like it should be there.
Yes, I do like Imogen. But I felt that surprise resurrection is just... unlikely.
(End spoilers).
Anyway, I find Jaron to be very interesting in this book. His pride does take a bit of a hit, but I feel like he still remains that arrogant boy from the beginning of the book. Of course, he has changed, but he conveys a person who hasn't changed at all. He is stubborn, and sometimes, he is very distrustful of people. LIke seriously. He won't tell people his plans. And he remains the holder of it all. (Unfortunately, he was proven right that he can't trust anybody when the plot suddenly... Ahhh... Jaron, Jaron, you are a little complicated creature).
Overall, I remain a bit neutral on this book. Putting in the standards set by the previous books, I will have to say that I'm disappointed. Putting in the average of all books that every existed in the genre (but only the books I'd read before), I will have to say that The Shadow Throne is above average. However, it could had been better. Better. Better. Better.
Better.
And I'm done.

Rating: Three out of Five