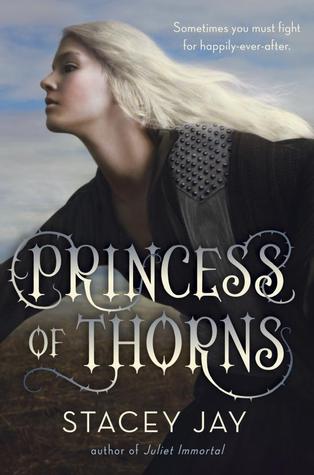 "Game of Thrones meets the Grimm's fairy tales in this twisted, fast-paced romantic fantasy-adventure about Sleeping Beauty's daughter, a warrior princess who must fight to reclaim her throne.





Though she looks like a mere mortal, Princess Aurora is a fairy blessed with enhanced strength, bravery, and mercy yet cursed to destroy the free will of any male who kisses her. Disguised as a boy, she enlists the help of the handsome but also cursed Prince Niklaas to fight legions of evil and free her brother from the ogre queen who stole Aurora's throne ten years ago.





Will Aurora triumph over evil and reach her brother before it's too late? Can Aurora and Niklaas break the curses that will otherwise forever keep them from finding their one true love?"
Princess of Thorns. Wow. Let's get this started.
So there is a lot of curses to go around. After all, this is a book based on fairy tales. I'm rather fond of fairy tales, and I love a fairy tale that does something very colorful, explosive, exciting, and exhilarating but still remains true to the fairy tale. I'm going to warn everyone that Aurora isn't exactly Princess Aurora of the Sleeping Beauty fairy tale. She is fairy-gifted, yes, but she is different. Her mother, on the other hand, is the Sleeping Beauty of the tale (though she is pretty much a secondary character of the book).
Let's talk about Aurora. Now, I really like her from the beginning. (And I have a feeling that she is a bit more like Mulan than Briar Rose from the crossdressing). She is a warrior from the beginning to the end, and like a normal person, she has hate in her heart and not enough love. (What? I honestly think more about hate than love, because hate seems everywhere and there are a bunch of people who just upset me). She is really to understand and go along, and I really like how tactic she is sometimes.
But it is Niklaas that is my baby. No, seriously. He is like my precious baby. I really love his remarks (even though it goes to the wrong side sometimes, like on the verge of being super inappropriate), and his obliviousness towards Aurora. Think of him as this way: Li Shang. Lone wolf Li Shang. Hmm... That is closest I can get to him other than talking about how awesome he is at being a rebel and all other sorts of things. But I'm going to say that I'm not always a big fan of Niklaas.
Like a lot of men, he gets thick headed at some points. I think most of us would probably understand what I mean.
The dialogue of this book is gold. Even if it is an ARC copy I'm reading.
The world of Princess of Thorns should be a bit more expanded on. I wish to know a bit more about Niklaas' father. I'm perfectly happy that Niklaas isn't obsessed over him and bent on getting revenge for cursing him, but I wish to know a bit more about this magical world. What else about the Faeries? There is something much more here, and I would seriously like to know what is going on. Give me all of the politics!
Overall, Princess of Thorns is a great book to read in free time, but it isn't exactly like... YOU MUST READ THIS OR ELSE YOU WILL DIE FROM NOT KNOWING ABOUT THIS!
My apologies to the old lady next door for yelling.
Rating: Four out of Five