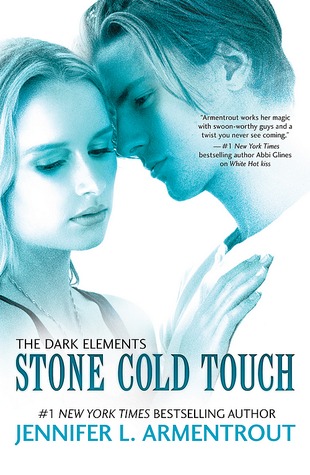 "Every touch has its price





Layla Shaw is trying to pick up the pieces of her shattered life—no easy task for a seventeen-year-old who's pretty sure things can't get worse. Her impossibly gorgeous best friend, Zayne, is forever off-limits thanks to the mysterious powers of her soul-stealing kiss. The Warden clan that has always protected her is suddenly keeping dangerous secrets. And she can barely think about Roth, the wickedly hot demon prince who understood her in ways no one else could.





But sometimes rock bottom is only the beginning. Because suddenly Layla's powers begin to evolve, and she's offered a tantalizing taste of what has always been forbidden. Then, when she least expects it, Roth returns, bringing news that could change her world forever. She's finally getting what she always wanted, but with hell literally breaking loose and the body count adding up, the price may be higher than Layla is willing to pay…"
Okay. Second book of The Dark Elements series. Stone Cold Touch. Am I the only one who thinks the name of the title is a bit strange? Two adjectives, and one noun. Each one. (Remember White Hot Kiss?) Anyway, I'm slightly disappointed in the love triangle (Zayne, Roth, and Layla), but I'm seriously excited for this series. It is really good, and I shouldn't be so surprise.
Obviously, I need to raise my standards of Jennifer L. Armentrout.
So... First! The love triangle. I think this is what we all love to talk about. For me, I don't really see a love triangle. Without Bambi (Roth's snake), Layla would simply kill Zayne if she kisses him. So... Truly, I don't really see an endgame for them unless Armentrout has something up her sleeve. But Roth, on the other hand... Well, he seems a bit more plausible, and I really like him with her. Even though he is a demon, he is still a really good guy...
Even though he is a bit corrupted inside. Or soulless. [Insert gif of Demon!Dean or that vampire from Buffy the Vampire Slayer, who I can't remember]
Second. The plot. It is a really exciting mystery. The search for the big bag monster is a really interesting quest. Through they don't exactly ravel anywhere. Anyway, when it all comes down, it gets really bloody and the body count really does rise. There is a huge number of dead bodies (like 6? I think?). I don't remember how many people died, but yeah, the stakes are really rising. (And this is without the Mother of Everything hanging around).
Third. Layla is getting really interesting. She is trying to dig through everything, and she is fighting literally against everyone. Warden, demon, it doesn't matter. Mostly, Warden though. And it is quite fascinating (I got to stop saying that word!) to see the people she called family turn their backs on her. Don't those people see that she is one half them? I guess all they see is the darkness in her. Seriously. There is only like two of the Wardens who would help her.
And Roth. I know that I'm seriously going overboard by talking so much about him, but I really have to talk about him. Really have to talk about him. I'm getting a little bit upset by how much he is pushing Layla away. Some of it is just paranoid and "She can't be with me because I'm a demon and she is a Warden" and that usual crap. I wonder if he can see farther than his nose (oh, wait...), because Layla can't end up with Zayne (because of all that kissing/soul-sucking problem). However, if he does know that, then he is seriously one devious demon to take Zayne's place instead of letting Zayne rot in hell.
Overall, great book.
Rating: Four out of Five