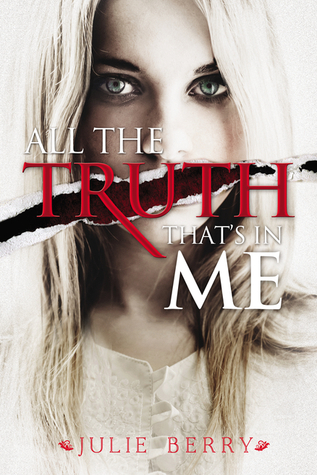 "Four years ago, Judith and her best friend disappeared from their small town of Roswell Station. Two years ago, only Judith returned, permanently mutilated, reviled and ignored by those who were once her friends and family. Unable to speak, Judith lives like a ghost in her own home, silently pouring out her thoughts to the boy who's owned her heart as long as she can remember—even if he doesn't know it—her childhood friend, Lucas. But when Roswell Station is attacked, long-buried secrets come to light, and Judith is forced to choose: continue to live in silence, or recover her voice, even if it means changing her world, and the lives around her, forever. This startlingly original novel will shock and disturb you; it will fill you with Judith's passion and longing; and its mysteries will keep you feverishly turning the pages until the very last."
Okay. I will finally get around to reviewing again. I'm just so busy this month (like every month, ha ha ha). There is just so much to do, as always. It seems that I'm drowning in everything, and then there comes a chance for air... or a lifeboat.
The Truth That's In Me is a dark tale of a mute girl named Judith. Now, this is a girl who can't talk (but once upon a time, she could) with a lot of secrets in her mind. She know more than she lets on, and she remains (forcibly and somewhat, consensually) silent. The entire book is from Judith to Lucas, the boy she loves very much. Unrequited love, yes. Very unfortunate, but let's not get into that. At least, not yet.
I rather enjoy this tale despite its very, very unique and very annoying writing. I originally thought it was second person narrative (until I reread the synopsis again). Remember what I'd said before? From Judith. To Lucas. But yes, it gets very haunting and creepy with every page. I find it interesting, and I'm totally captivated by all this mystery and suspense.
(And no, it does not feature rape, though there is molestation and sexual harassment. Some nasty stuff.).
I will tell you that Lucas and Judith is a slow relationship. Judith withdraws (especially with her disability). But it is a relationship that kind of grows on you. At first, I was very annoyed by all this pining and stuff, but... yeah. I see it much differently. In fact, I think Lucas is kind of good for her. He draws her out.
The mystery is wow! It is... Worth reading about. Even though it is a bit creepy. Okay, I'm sugarcoating it. It is more than creepy. It is so creepy, and I find all of these characters' motivations to be... spellbinding.
But yes, my recommendation is to read it even though it is a bit hard to read. It gets confusing at times (like more confusing than usual), but it is worth it.
And yes, they lived happy ever after.
Rating: Four out of Five