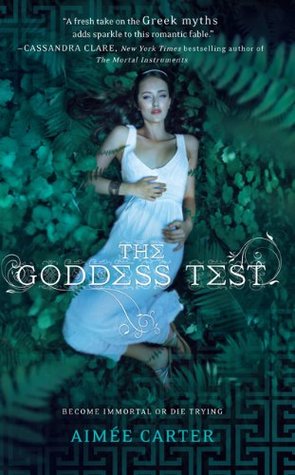 "Every girl who had taken the test has died.




It's always been just Kate and her mom - and her mother is dying. Her last wish? To move back to her childhood home. So Kate's going to start at a new school with no friends, no other family and the fear that her mother won't live past the fall.

Then she meets Henry. Dark. Tortured. And mesmerizing. He claims to be Hades, god of the Underworld - and if she accepts his bargain, he'll keep her mother alive while Kate tries to pass seven tests.

Kate is sure he's crazy - until she sees him bring a girl back from the dead. Now saving her mother seems crazily possible. If she succeeds, she'll become Henry's future bride and a goddess.
Oh, this is so another knockoff of the Percy Jackson books. Oh, wait. Percy Jackson probably was a knockoff of Homer, so... It is endlessly complicated.
The Goddess Test is pretty bad. It isn't as bad as the Dig, but I still want to bash it in the head. It, like the Dig, was so bad that I had to take a break from The Goddess Test. I had to read Percy Jackson, because his stories are way better. Demigods are much more fun than gods, Henry, and yeah... Those guys.
Henry, for one, is one annoying character. Sure, sure, sure, he might be a virgin. (I'm not going to be bursting out in laughter. Not yet). Apparently, he loved Persephone too much, but she didn't love him enough. I, however, find that unbelievable. Even the most faithful men eventually find love again. Widows and divorcees always manage to find another one. Anyway, if that isn't possible, then I would say that Henry is very disturbing. If I were to be Kate, I would be heavily worried about possible cheating. Persephone is dead, yes, but how do you know that he isn't doing anything with her? Okay, now I'm just being annoying. I'll stop now.
Kate is annoying too, though not as much as Henry. (Henry may try to be charming, but he only comes off as Edward Cullen, which is very disgusting and disturbing). And Kate is the classic Bella Swan. Clumsy, klutzy, and very annoying in her inner dialogue. She is crazily perfect, having managing to pass the test. Oh, that wasn't obvious. Well, I'm sorry, but if she didn't pass, then there wouldn't be any sequels. No sequels mean a relief to all of us, right? Unfortunately, yes, she survived, so there are two sequels.
The romance between Henry and Kate is very dry. Good romance, like Divergent, makes you feel things, like a spark in the stomach and a ticklish feeling whenever you read a great paragraph. (See Divergent's graph/Tobias' declaration moment. It is gold).
Overall, I think The Goddess Test isn't worth it. It may be a step up from the Dig (the previous book I'd read), but it has nothing on Percy Jackson, which is undeniably the number one book based on Greek Mythology.
And... Enough of this. I'm finishing this review.
Rating: Two out of Five