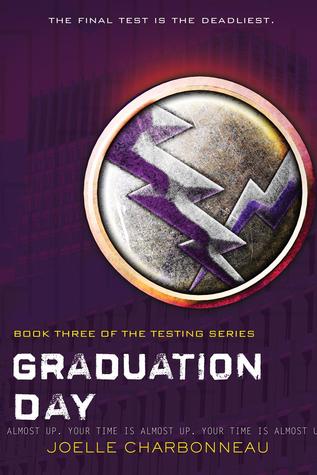 "In book three of the Testing series, the United Commonwealth wants to eliminate the rebel alliance fighting to destroy The Testing for good. Cia is ready to lead the charge, but will her lethal classmates follow her into battle?





She wants to put an end to the Testing




In a scarred and brutal future, The United Commonwealth teeters on the brink of all-out civil war. The rebel resistance plots against a government that rules with cruelty and cunning. Gifted student and Testing survivor, Cia Vale, vows to fight.





But she can't do it alone.




This is the chance to lead that Cia has trained for - but who will follow? Plunging through layers of danger and deception, Cia must risk the lives of those she loves--and gamble on the loyalty of her lethal classmates.





Who can Cia trust?




The stakes are higher than ever-lives of promise cut short or fulfilled; a future ruled by fear or hope--in the electrifying conclusion to Joelle Charbonneau's epic Testing trilogy. Ready or not…it's Graduation Day.





The Final Test is the Deadliest!"
Welcome to the book series that makes you feel dumb. Graduation Day will make you feel smart, so you better listen up and read my review. Or if you don't feel dumb, don't bother even reading this series. Trilogy. It is a trilogy.
Graduation Day is the last installment in the Testing series. I actually like the first book, The Testing, very much, because it has challenges and fascinating things. Needless to say, I have a heart in dystopian reads. And I finished this book, because I might as well finish up the series before I start on another series. You know how much I read, right? A book per day? That rate? Oh, well. I finished, I finish.
Cia is a smart girl. She is able to find problems when even I can't find anything. Of course, that only makes me feel more dumb, but that is not the point of the story. Cia is always one for change. She doesn't want the Testing to continue, but as the plot moves forward, her belief is tested and determined. I will tell you myself that the changes in her character are quite fascinating. She is always secondguessing, always making sure she won't be killed or murdered before her plans would finally make their due.
The best part? I think the best part is when Cia finally breaks away from the University and makes her own choices instead of listening to the rebellion, the President, and other factors. Yes, that is indeed the best moment.
Graduation Day goes by quickly. I didn't notice the ending or the time when I finished the book. It isn't a bad ending, but I will admit that I was left a bit disappointed. The ending leaves a bunch of questions to be answered. I really hate how some authors would leave more questions to be answered, as if expecting to write another series. Needless to say, I don't have much time to read, but I burn time by reading books anyway. Graduation Day ends with many questions thanks to one crucial character's death. Oh. I should add that the character is only secondary. He isn't part of the main cast yet he left so many questions to be answered! It is so frustrating! (Ruin and Rising left too many questions, too).
Overall, this series/trilogy started off well and ended with many questions. At least Cia got what she wanted, but there is still not enough answers given. This Testing series is best for readers who want to have discussions and debates after finishing their books.
Rating: Three out of Five