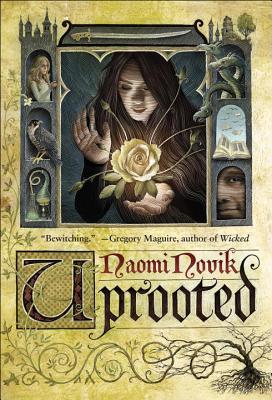 "Naomi Novik, author of the bestselling and critically acclaimed Temeraire novels, introduces a bold new world rooted in folk stories and legends, as elemental as a Grimm fairy tale.



"Our Dragon doesn't eat the girls he takes, no matter what stories they tell outside our valley. We hear them sometimes, from travelers passing through. They talk as though we were doing human sacrifice, and he were a real dragon. Of course that's not true: he may be a wizard and immortal, but he's still a man, and our fathers would band together and kill him if he wanted to eat one of us every ten years. He protects us against the Wood, and we're grateful, but not that grateful."





Agnieszka loves her valley home, her quiet village, the forests and the bright shining river. But the corrupted Wood stands on the border, full of malevolent power, and its shadow lies over her life.





Her people rely on the cold, driven wizard known only as the Dragon to keep its powers at bay. But he demands a terrible price for his help: one young woman handed over to serve him for ten years, a fate almost as terrible as falling to the Wood.





The next choosing is fast approaching, and Agnieszka is afraid. She knows—

everyone

knows—that the Dragon will take Kasia: beautiful, graceful, brave Kasia, all the things Agnieszka isn't, and her dearest friend in the world. And there is no way to save her.





But Agnieszka fears the wrong things. For when the Dragon comes, it is not Kasia he will choose."
Uprooted is a delightful tale of magic and evil, best recommended for older teens for some graphic scenes. The genre is YA Fantasy. From the very beginning, I am enchanted by the world of this book and I have reread this at least eight times. Each time makes my eyes open wider, and my understanding of this standalone deepens. Every time, I enjoy it.
Agnieszka, which is a finger-twisting name to type, is a very particular girl with hidden talents and gifts. She has always known that her best friend, Kasia, is going to be taken by the Dragon, who is the most powerful wizard in the kingdom. But all of that changes the day Kasia isn't picked but Agnieszka is. From there, it is a wild adventure and Agnieszka has the most important role to play against the great evil of her world. She really rises to the call.
The Dragon, who is also known as Sarkan (though not frequently referred to by that name), is a very mysterious figure of great power and knowledge. To the villagers like Agnieszka and Kasia, he is distant, cold, and great, but he is also the protector and guardian and is the first line defender against the deadly and evil force called the "Woods." He is an intriguing character, and Naomi Novik crafts him well.
The only romance in Uprooted is between Agnieszka and the Dragon. It is a very subtle romance. All of the signs are indeed there, and readers do have to dig into the subtext. Their magical relationship isn't overbearing on the story and plot, but it does have an excellent spot in the book and makes a good (and also fascinating) subplot.
The story is rather long, about four hundred pages or so. It can be split into two books and few would see the difference. Still, the pacing is perfect and the story flows smoothly. Transitions are great, and I barely notice any errors (if there are some). The world building may be rather confusing at some points, because the descriptions of the Woods are complex. I'll do my best to simplify it here. The Woods is a living, breathing forest of pure evil with the intent to harm others. It targets humans as their victims. Witches and wizards are its favorite victim (because of their power), though any human can probably do.
In conclusion, Uprooted is an adventurous, wild, spellbinding, and magical journey of Agnieszka. It has a strong heroine with amazing and unique supporting characters. The villain, which is the Woods, is a character few can hate despite what it has done. The book is very addicting and fun, its magic somehow reaching into our world and corrupting me to read Uprooted again. Please send someone to help me.
Rating: Five out of Five