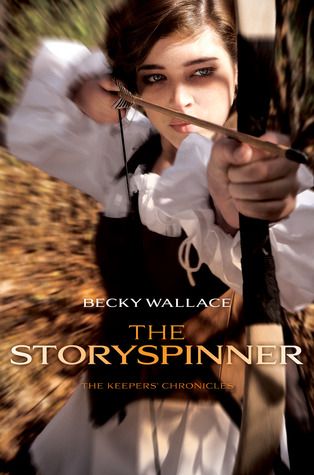 "Drama and danger abound in this fantasy realm where dukes play a game for the throne, magical warriors race to find the missing heir, and romance blossoms where it is least expected.





In a world where dukes plot their way to the throne, a Performer's life can get tricky. And in Johanna Von Arlo's case, it can be fatal. Expelled from her troupe after her father's death, Johanna is forced to work for the handsome Lord Rafael DeSilva. Too bad they don't get along. But while Johanna's father's death was deemed an accident, the Keepers aren't so sure.





The Keepers, a race of people with magical abilities, are on a quest to find the princess—the same princess who is supposed to be dead and whose throne the dukes are fighting over. But they aren't the only ones looking for her. And in the wake of their search, murdered girls keep turning up—girls who look exactly like the princess, and exactly like Johanna.





With dukes, Keepers, and a killer all after the princess, Johanna finds herself caught up in political machinations for the throne, threats on her life, and an unexpected romance that could change everything."
YA Fantasy, The Storyspinner is told from many POVs and perspectives. Each one is different from one another and provide a different view of the story. Impressively, Becky Wallace doesn't give readers a chance to mistaken characters for another, though it is easy to forget which characters have their own POV chapter.
The book itself is focused on two storylines. First storyline is of Johanna Von Arlo's journey, whose father recently passed away. She is currently trying to avoid being killed by her enemies. The other is of the powerful and mysterious group called the Keepers who are willing to protect their own kind. Their mission is to find the hidden princess and use her lineage/blood/ancestry to renew a magical barrier that keeps out monsters. The fascinating story is simple to keep up with. The plot itself falters slows in some parts, but the action makes up for the awkward moments.
Johanna Von Arlo is a great character. Though she is thrust into a terrible problem and tight spot where she ends up as the damsel in distress, she can remain brave and smart. She shares a remarkable spark with the young Rafael DeSilva (Rafe). Rafe and Johanna have a slow burn romance, that starts off with a "I hate you, you hate me" vibe. It slowly soothes into "something more" territory, which is very amusing and dramatic to watch. That is a couple I ship (hard) from the very beginning of the book.
The world building is easy to get the gist of. Just imagine a world of knights, magic, a princess, arranged marriages, kingdoms, wars, and even more magic. The world of The Storyspinner will be familiar to most readers who are well-versed with fantasy novels.
The story goes by quickly, even though the book is four hundred pages or so long. But the most jolting part of the novel is the ending. It goes by too fast, over too quickly. I have to reread it, because the ending simply cuts off at the most awful place possible. I'm left with all of these questions and an uncomfortable stomach. By the end (minor spoiler alert here), all of these heroes and heroines are left in a tight spot. The sequel can't come out soon enough, and I'm eager to see what will happen next.
Overall, The Storyspinner has left me with mixed feelings. I adore most of its main characters and its hate-turn-into-love romance. The world building isn't original, but it is easy to pick up and remember. The story is fun and entertaining, taking readers to another place and time. I would recommend this to those that love a princess, magic, and kingdoms. Best for 13+ and those who really need a book to read.
Rating: Three out of Five