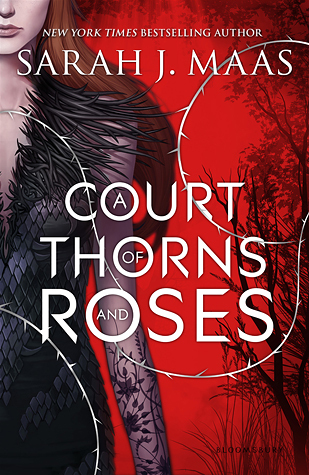 "A thrilling, seductive new series from New York Times bestselling author Sarah J. Maas, blending Beauty and the Beast with faerie lore.



When nineteen-year-old huntress Feyre kills a wolf in the woods, a beast-like creature arrives to demand retribution for it. Dragged to a treacherous magical land she only knows about from legends, Feyre discovers that her captor is not an animal, but Tamlin—one of the lethal, immortal faeries who once ruled their world.





As she dwells on his estate, her feelings for Tamlin transform from icy hostility into a fiery passion that burns through every lie and warning she's been told about the beautiful, dangerous world of the Fae. But an ancient, wicked shadow grows over the faerie lands, and Feyre must find a way to stop it . . . or doom Tamlin—and his world—forever.





Perfect for fans of Kristin Cashore and George R. R. Martin, this first book in a sexy and action-packed new series is impossible to put down!"
A Court of Thorns and Roses is nothing I expected to be. Originally, I expected it to be a great fairy tale retelling with a Katniss-like heroine. That is the expectation. What this book is, it goes beyond my expectations. It is legendary, and Sarah J. Maas is the queen (as said before by many). She has written Throne of Glass and its sequels, but this beauty is the crown jewel (the masterpiece) of Maas's works.
A retelling of "Beauty and the Beast," A Court of Thorns and Roses holds some similar storylines to "Cupid and Psyche." But Sarah J. Maas never fails to amaze me, despite the familiar subplots and tropes used. Feyre is a dangerous girl, who has a stern heart of gold and the spirit of a true huntress. Tamlin, who is a dangerous faerie with awful skills for courting and deathly ways with a weapon (or no weapon at all), is full of layers and slowly becomes someone understandable.
The plot circles and circles around a single point. It goes very fast, and though the book is long (four hundred or so pages), the pacing is perfect. Every moment is amazing, every scene is absolutely splendid, and every page is worth a reread. (I admit I reread A Court of Thorns and Roses at least four times because of how good it is.) The book is told from first person, and Feyre's voice reminds me very much of Katniss Everdeen and other tough huntresses of legends and myths.
The romance between Feyre and Tamlin is great and amusing to watch, and it has a surprisingly large role in the story. The conflict and the villain of the story makes their romance even more difficult and simpler, all at the same time. Of course, the love between Feyre and Tamlin would never happen if it weren't for the cunning and dangerous villain, who I admire very much. She is a tricky character with horrible servants hanging onto her every world, a sharp mind, and an even sharper streak of cruelty. Her bloodthirsty ways are quite shocking and graphic.
The ending of the book is one of the best parts. The last chapter or so is so satisfying that readers would probably read it over and over twenty-two times in the row. In one sitting. It is that satisfying. Despite obvious loose ends, the conclusion to this book can be seen as a strong ending to a standalone. Still, I'm rather eager to see where the author will take the trilogy and hope that she doesn't turn the romance into a love triangle. (The "romance into a love triangle" is a discussion for another time and place.)
In conclusion, A Court of Thorns and Roses is a whirling fairy tale retelling. With a tough and strong heroine and a lovable beast, this story is totally worth a reread. Every time. Many can probably live and breathe on the words of Sarah J. Maas.
Rating: Five out of Five