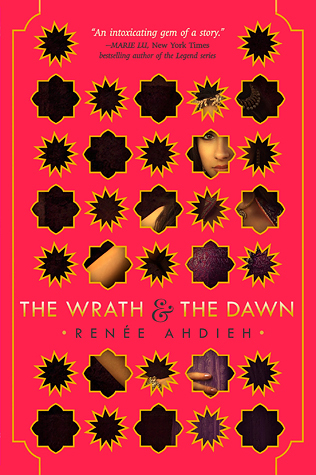 "A sumptuous and epically told love story inspired by A Thousand and One Nights

Every dawn brings horror to a different family in a land ruled by a killer. Khalid, the eighteen-year-old Caliph of Khorasan, takes a new bride each night only to have her executed at sunrise. So it is a suspicious surprise when sixteen-year-old Shahrzad volunteers to marry Khalid. But she does so with a clever plan to stay alive and exact revenge on the Caliph for the murder of her best friend and countless other girls. Shazi's wit and will, indeed, get her through to the dawn that no others have seen, but with a catch . . . she's falling in love with the very boy who killed her dearest friend.

She discovers that the murderous boy-king is not all that he seems and neither are the deaths of so many girls. Shazi is determined to uncover the reason for the murders and to break the cycle once and for all."
YA Fantasy, The Wrath and the Dawn is an awesome title for an amazing book, but more importantly, it is a dark retelling of One Thousand and One Nights (which goes by many other names). In this story, Scheherazade volunteered to the the next bride of a sultan, who would marry a bride every day before executing her the next morning. On her wedding night, Scheherazade told a story, not completing it before morning. The sultan was forced to postpone her execution. The next night, she would finish her tale and start a new one, only to end on the cliffhanger. This goes on for a thousand and one nights, thus the title of the work.
But in this version, there is magic. The lines between stories, the supernatural, magic, and curses are blurred. It is all real, and the author slowly makes its presence known. The world building of this book is absolutely gorgeous from the clothes the characters wear to the sword the Caliph carries, and I love what a fresh change this book is from the usual novels with magical princesses and Victorian romances. There will never be enough Historical Fiction novels that is set outside of Europe or the Americas.
Curious and absolutely wonderful, Shahrzad (Scheherazade, in this version) is a determined girl who is definitely filled with hate for the greatly loathed Caliph (the sultan, in this version). Shazi, which is her nickname, manages to put her execution off for one night, igniting a new change in the cycle. Despite her wishes to see the Caliph dead and very dead, she slowly falls in love with him to her horror.
The Caliph is shrouded in mystery, and when he starts opening up, the boy-king reveals so much about himself. Without setting off spoiler alarms, I must say that the Caliph is a puzzling character who is a good leader but also has to atone for his actions. Whether or not he is a good man at heart, his actions and orders must be watched carefully and looked over.
The story is very, very suspenseful. Shahrzad is always one step away from death, and she has a brilliant mind. She plays the intrigue of court politics well, always making subtle jabs. Told from multiple perspectives, The Wrath and the Dawn may have strange transitions between POVs, but it makes it up in strong moments of emotions, romance, dialogue, and magic. The ending is one of the most shocking parts of the book, and few would know what Renee Ahdieh would bring next.
Overall, The Wrath and the Dawn is an exciting first installment in a duology. It has so much potential for a dark and thrilling tale set in a faraway land with magic.
Rating: Four out of Five