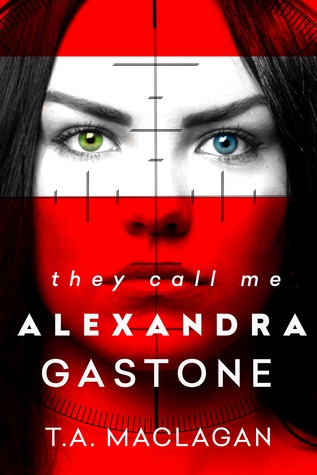 "When your life is a lie, how do you know what's real?



Alexandra Gastone has a simple plan: graduate high school, get into Princeton, work for the CIA, and serve her great nation.





She was told the plan back when her name was Milena Rokva, back before the real Alexandra and her family were killed in a car crash.





Milena was trained to be a sleeper agent by Perun, a clandestine organization from her true homeland of Olissa. There, Milena learned everything she needed to infiltrate the life of CIA analyst Albert Gastone, Alexandra's grandfather, and the ranks of America's top intelligence agency.





For seven years, "Alexandra" has been on standby and life's been good. Grandpa Albert loves her, and her strategically chosen boyfriend, Grant, is amazing.





But things are about to change. Perun no longer needs her at the CIA in five years' time. They need her active now.





Between her cover as a high school girl—juggling a homecoming dance, history reports, and an increasingly suspicious boyfriend—and her mission in this high-stakes spy game, the boundaries of her two lives are beginning to blur.





Will she stay true to the country she barely remembers, or has her loyalty shattered along with her identity?"
NetGalley. Thanks for the copy.
Espionage. Assassination. Ulterior motives. Politics. High school. Murder. Spies. Terror. Each one of these words are important in this story of Milena Rokva. Any young teen (12 or older) can pick up this book and enjoy some killer fighting scenes and its intense plot. By plot, I mean actual plot of murder and assassination, lies and deception. Milena Rokva, who is better known as Alexandra Gastone because Milena Rokva is dead to the world, is charged with pretending to be Alexandra since she was a very small child.
Like Black Widow (Natasha from Marvel's line of Avenger movies) and Salt (played by Angelina Jolie in Salt), Alexandra is a spy. The young girl and narrator used to be called Milena as I said before. From Olissa (a fictional place probably located near or in Russia), she is on a dangerous mission to extract secrets and understand the motives/actions of Albert Gastone. Albert Gastone, Alexandra Gastone's grandfather, works for the CIA. It is a straightforward mission until Perun charged her with a deadly mission: to assassinate a public figure. That is when her motives and her character truly comes out. That is where Milena really comes out.
She is not without love interests. The author has already set up two and their foundation (for a relationship). One is in love with Alexandra Gastone, but knows that she is hiding a lot from him. The other knows the girl behind the face of Alexandra, but is in danger because of what he has done to Perun. So who would it be? But the romance is yet a subplot, not a big deal.
The writing style seems awkward and rough, though it is easy to adjust with over time. The story spins wildly, as wild as Salt (the movie) and The Bourne Identity (the movie). Though there are some moments of cliches and strange transitions, the plot does run quickly and fast-paced. Readers won't be bored.
Perun is definitely not the most friendly organization, but they support Milena and they back her for many years. The complexity of Perun interests me. Are they a villain? Or are they good? Are they trustworthy? Or will they backstab one of their own to get ahead? Throughout the novel, Perun's history and true motives has been hinted at and the clues are many while answers are so few. Perun is a mystery. It is a dark group of people, and by the end of the novel, Milena comes to her own conclusions about the complicated and rebellious organization that has trained her to become a teenage spy for them.
Overall, They Call Me Alexandra Gastone is a fascinating spy thriller. Though some scenes have been seen and done before, there is a great character behind the face of Alexandra Gastone. This is best for fans of darker spy thrillers.
Rating: Three out of Five