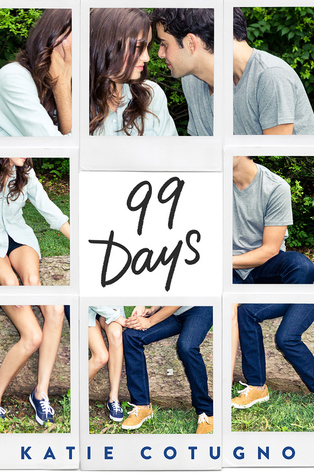 "Day 1: Julia Donnelly eggs my house my first night back in Star Lake, and that's how I know everyone still remembers everything—how I destroyed my relationship with Patrick the night everything happened with his brother, Gabe. How I wrecked their whole family. Now I'm serving out my summer like a jail sentence: Just ninety-nine days till I can leave for college, and be done.





Day 4: A nasty note on my windshield makes it clear Julia isn't finished. I'm expecting a fight when someone taps me on the shoulder, but it's just Gabe, home from college and actually happy to see me. "For what it's worth, Molly Barlow," he says, "I'm really glad you're back."





Day 12: Gabe got me to come to this party, and I'm actually having fun. I think he's about to kiss me—and that's when I see Patrick. My Patrick, who's supposed to be clear across the country. My Patrick, who's never going to forgive me."
YABC.
99 Days appear to be a standalone novel and is written by Katie Cotugno. Interestingly, each chapter in this book is of a single day. One chapter for one day. Some are short, some are long, some are in between. Some are great days, some are of sorrowful days. But why does all of this matter? Well, despite all the strange differences in chapter length and drama and character appearances, the pacing is quite right and the plot doesn't stall (if at all). The writing style is simple and easy to understand.
Molly, our sole narrator, comes back to town. Slowly, the book unravels to reveal why exactly the town treats Molly like a pariah. Molly and Patrick were dating in the past and broke up. Gabe, Patrick's brother, was there to pick up the pieces and slept with Molly. It would had remained her secret for the rest of her life, if it weren't for her mother who wrote a bestselling book based on Molly's complicated and messed-up love life. So there is where the drama and disgust towards Molly begins.
The dramatic and overbearing love triangle of Molly, Patrick, and Gabe is the book's main plot and conflict. However, there are also some subplots. One is the vibrant and difficult relationship between Molly's mother and Molly herself. Another is Molly's own character development (which is perhaps the most important plot of them all). Each one is woven into the other, making the story much richer and layered. The plot may start slowly in the beginning, but it picks up speed once readers find out about Molly, Patrick, and Gabe's past.
Gabe and Patrick are brothers. They love the same girl. They never had a decent relationship (or friendship or brother-ship) with each other. Throw in Molly, and everything is a huge fight. Both of them are delightful characters in the first half of the book, but it is their slow and steady reveal of their true colors and their actions that draws me in.
The ending is abrupt and sudden. At first, it feels more of an unsettling ending, but the more I think about it, the more I realize how strong and tough the ending is. It is, to be short, a strange ending that leaves unsatisfied readers but also hints for a brand new beginning. The ending is beautiful.
Overall, 99 Days is a surprising story that subverts the old "love triangle" tale by giving the story a unexpected ending. I applaud the author for her bold choice. Molly herself is a strong character with glorious character development. Best for younger teens and up, 99 Days is a bold novel that goes out of its way to make a strong impression.
Rating: Four out of Five