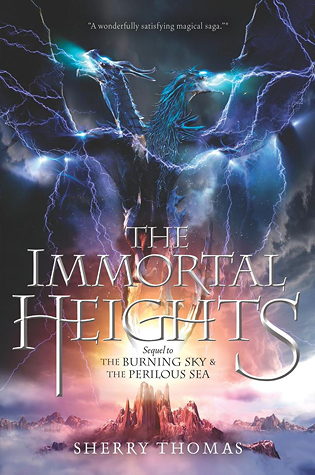 "In a pursuit that has spanned continents, Iolanthe, Titus, and their friends have always managed to remain one step ahead of the forces of Atlantis. But now the Bane, the monstrous tyrant who bestrides the entire mage world, has issued his ultimatum: Titus must hand over Iolanthe, or watch as his entire realm is destroyed in a deadly rampage. Running out of time and options, Iolanthe and Titus must act decisively to deliver a final blow to the Bane, ending his reign of terror for good.





However, getting to the Bane means accomplishing the impossible—finding a way to infiltrate his crypt in the deepest recesses of the most ferociously guarded fortress in Atlantis. And everything is only made more difficult when new prophecies come to light, foretelling a doomed effort....





Iolanthe and Titus will put their love and their lives on the line. But will it be enough?





With

The Immortal Heights

, Sherry Thomas brings the acclaimed Elemental Trilogy to its breathtaking conclusion."
YABC.
The Immortal Heights is the last installment in its trilogy. It begins with The Burning Sky (which I absolutely love and adore) and continues with The Perilous Sea. Iolanthe (who is also called Fairfax), Titus, and their allies are at war against Atlantis. The Bane has finally appeared and knows about Titus and Iolanthe. He is power-hungry, and he won't rest until Iolanthe is dead and Titus is weakened.
Sherry Thomas does a splendid job of helping readers catch up to current times. Weaving past events into the beginning, she makes it part of the dialogue and slowly explain it. I easily sink back into Iolanthe's world and let myself ignore everything in my world. The world of The Elemental Series has change by much. A deadly war, which Sherry Thomas describes well from magic to Altantis' agents to dragon-like beasts, threatens everyone. It is a very straightforward conflict.
Iolanthe is the most powerful mage in the series. In times of war and violence, she remains cool in the head even though she may die. She hangs on tightly to Titus, knowing that she may one day lose him. Literally electrifying, Iolanthe has her share of amazing moments. (They are so good that I'll put a gif of Julie Andrews saying "Well done" right here.) She is the most awesome character in the entire trilogy, and I dare anyone to say otherwise.
Titus, the Master of the Domain, has his mother's prophecies to guide him. He already knows about the prediction foretelling his death and could hardly care as long as Iolanthe can walk away unscathed. But when she is threatened, he does anything to protect her. Titus is sometimes too clever for his own good. Out of the two main characters, Titus has the best character development while Iolanthe has the best action scenes.
The Bane, who is the archnemesis of our heroes, is a character all readers will love to hate. Greatly similar to Lord Voldemort, he is power-hungry and unwilling to die. He isn't a deep character, but he is truly despicable and unlikable. He also provides entertaining/morbid pieces of dialogue.
The ending of The Immortal Heights is one of the best parts of the entire series. Most readers would be pleased. Some may be slightly bewildered (like I was), but they may come to accept it (like I have). Unsurprisingly, the ending is bittersweet. It is perfect; Sherry Thomas ends it with few loose ends and the readers satisfied.
In conclusion, The Immortal Heights is the ending of a brilliant trilogy we have all been waiting for. Much more adventure-centric, the book has bold and young characters who will do anything to protect everyone (and each other) from great evil. Told from alternating POVs, the story continues the battle against the Bane and ends on a high note. I will recommend this to anyone who loves magic, snarky characters, a fantastic fantasy world, and a sweeping romance.
Rating: Four out of Five