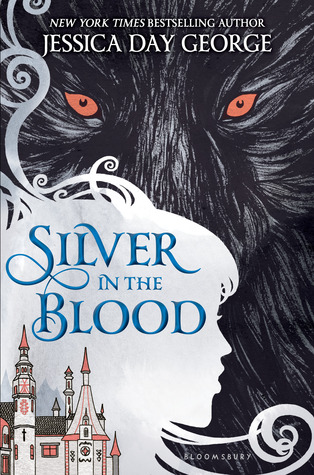 "A New York Times bestselling author brings dark secrets to life in a lush new YA perfect for fans of Libba Bray or Cassandra Clare.



Society girls from New York City circa 1890, Dacia and Lou never desired to know more about their lineage, instead preferring to gossip about the mysterious Romanian family that they barely knew. But upon turning seventeen, the girls must return to their homeland to meet their relatives, find proper husbands, and—most terrifyingly—learn the deep family secrets of The Claw, The Wing, and The Smoke. The Florescus, after all, are shape-shifters, and it is time for Dacia and Lou to fulfill the prophecy that demands their acceptance of this fate . . . or fight against this cruel inheritance with all their might.





With a gorgeous Romanian setting, stunning Parisian gowns, and dark brooding young men, readers will be swept up by this epic adventure of two girls in a battle for their lives."
NetGalley! Thanks for the copy.
I'm a fan of Jessica Day George. I love several of her books. The "Cinderella" retelling (can't remember the title) is one of my favorites. I also love her version of "Red Riding Hood," "The Twelve Dancing Princesses," and "East of the Sun, West of the Moon." I simply love how she writes, and the tales she spins? They are so beautiful.
Well, Silver in the Blood is the exception. I tried liking the book, but I simply don't. I wish I could like it, but I don't want to lie either. So here we go.
I'm not sure if this book is a retelling of any story, but the paranormal parts are good. They are definitely decent, and George always explains her world well. I love The Claw, The Wing, and The Smoke. (Obviously, I can't say much, but they are great parts of the book. It brings a sense of awe and magic.) The world building is fine, as usual. The writing is dry, however, and I find myself trying hard to adjust to it. I don't recall George sounding a bit strange and awkward, but it has been years since I read her other books.
Told from two characters, Silver in the Blood has Dacia and Lou as our narrators. Dacia is outgoing, and she is very spirited compared to Lou. Dacia and Lou, though they are related by blood (and are cousins), are polar opposite. Dacia is north. Lou is south. Dacia is the earth. Lou is the sky. Both girls bring something to the table, and I absolutely love their character development. The changes in their personality are definitely subtle, but when they change in their own way, it is worthwhile to watch. My personal favorite is Lou. She connects to me the most.
Now, it seems all great and wonderful, but the part that brings me down the most is the plot. The beginning unravels rather slowly. The plot quickens at halfway of the book. I understand the need for the buildup, but my eyes simply roll over the words and doesn't take them in. The mystery of Dacia and Lou's family is certainly interesting, but George holds the answers for too long. When everything breaks out, everything breaks out and I'm glad that George doesn't hold anything back to hide.
The men in the book are a bit strange. I'm not sure if Lou's particular love interest is a good model. (Forgive me, but I don't like people to be called rude names. It isn't a good foundation for a relationship.) That is all.
Overall, Silver in the Blood is a surprisingly slow story that unravels over the course of the book. If you're the kind of person who likes slow and steady (and then a sudden explosion), then this one is for you. But it isn't for me.
Rating: Two out of Five