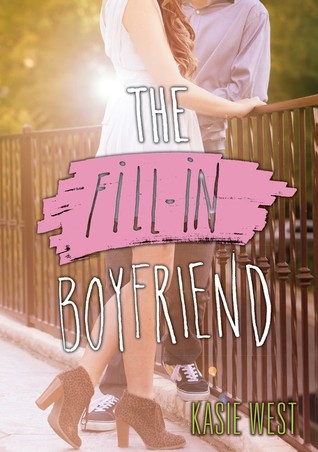 "When Gia Montgomery's boyfriend, Bradley, dumps her in the parking lot of her high school prom, she has to think fast. After all, she'd been telling her friends about him for months now. This was supposed to be the night she proved he existed. So when she sees a cute guy waiting to pick up his sister, she enlists his help. The task is simple: be her fill-in boyfriend—two hours, zero commitment, a few white lies. After that, she can win back the real Bradley.





The problem is that days after prom, it's not the real Bradley she's thinking about, but the stand-in. The one whose name she doesn't even know. But tracking him down doesn't mean they're done faking a relationship. Gia owes him a favor and his sister intends to see that he collects: his ex-girlfriend's graduation party—three hours, zero commitment, a few white lies.





Just when Gia begins to wonder if she could turn her fake boyfriend into a real one, Bradley comes waltzing back into her life, exposing her lie, and threatening to destroy her friendships and her new-found relationship."
YA Contemporary, The Fill-In Boyfriend has a promising conflict. Bradley, the real Bradley who goes to UCLA, dumps Gia before he can go to the prom with her. The fake Bradley manages to be there at the right place and pretends to be Bradley. Lucky for Gia, he is an excellent actor. Unfortunately, he becomes a runaway bride (or a male Cinderella) and disappears before Gia can find out his real name. But these are only the simple times of Gia's life.
The fake Bradley walks back into Gia's life. Interestingly, it is his sister that brings the two of them together again. But all is not without pain, drama, and emotional attachments. And of course, complications and twists. The biggest twists is that fake Bradley (whose real name eludes me, but will come to me soon enough) and Gia are slowly falling in love with each other while fake Bradley is trying to get his ex back. They are great at denial, and it is a fun game of "will they or won't they?" until the plot drags on too long. Luckily, it ends with humor and a great ol' kiss. Nothing like a HEA (Happily Ever After) to end a book.
Fake Bradley's real name is [major spoiler warning here] Hayden. [End spoiler] Gia calls him Fill-in Bradley, which works perfectly fine. Ironically, the acronym of that is FIB. Fib, fib, fib. He has some issues, but he is a good actor. He is an adorable male character with some realistic issues. Plus, he has an awesome sister.
Despite the great romance and the wonderful characterization and alluring mystery of FIB, there are some lacking points. Kasie West is great, and she holds up strongly in the beginning. She unveils characterization and Gia's insecurities well, unraveling them and making the characters stronger in the end. But Gia's friends are questionable characters and their hidden depths are subtle (too subtle). The romance, as said before, hangs on too long because of the book's stalling. Also, Gia's character in the start of the book falters slightly before gaining strength and becoming remarkable. Her relationships are also great subplots to watch out for.
Last Words: First five or so chapters are perfect, which should be obvious to any reader. The plot's pacing is good, especially in the beginning. The writing is strong, which makes up for the slow (though also steady) pacing.
In conclusion, The Fill-In Boyfriend has a slow-burning romance with an intriguing male love interest. It is realistic, and it is best recommended for those looking for a little bit of love, a little bit of chick-lit, and a little bit of what's familiar and new.
Rating: Three out of Five