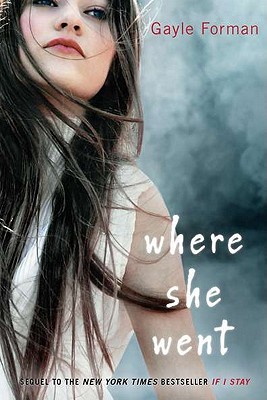 "It's been three years since the devastating accident . . . three years since Mia walked out of Adam's life forever.

Now living on opposite coasts, Mia is Juilliard's rising star and Adam is LA tabloid fodder, thanks to his new rock star status and celebrity girlfriend. When Adam gets stuck in New York by himself, chance brings the couple together again, for one last night. As they explore the city that has become Mia's home, Adam and Mia revisit the past and open their hearts to the future - and each other.

Told from Adam's point of view in the spare, lyrical prose that defined If I Stay, Where She Went explores the devastation of grief, the promise of new hope, and the flame of rekindled romance."
So I'm finally reading this series. If I Stay. Where She Went. I already wrote a (very positive) review on If I Stay, the first book of this series. So let's see how Where She Went fare. Here we go.
Where She Went is told from Adam's POV. Adam is pretty much going in a downward spiral. Do you want to know the full story? Because it is pretty ugly, alright. Spoilers ahead! So Adam is in a downward spiral. Popping pills. Smoking. Maybe even drinking for all I know. He has anxiety problems, and he is nervous wherever he goes. Like a war veteran. And I think his last positive parts of his life was Mia. Until she dumped him.
If I have to say which series (If I Stay and Just One Day) is better, I would automatically tell you that Just One Day is better. Overall. But if I have to choose a book between them all, I would choose If I Stay. That one. That one is the crown jewel of them all. And if I have to say which one sucked, it would be Just One Night. Because that short story was too much like a darn fairy tale ending and seemed way too hippy for my tastes.
Now this one... So MUCH drama. Now, I can recall why I hate soap operas. Because they are incredibly hard to keep up with. We can have Revenge as an example. Or maybe not. Because that will be a heck of summary of drama. Pure drama. And let's not even get started with the Happily Ever After. Seriously. (I was cool with Adam letting Mia go. Forever. And a day).
And let's talk about Mia. Mia has always been strange. The strange one in her family. The strange one at band concerts. The strange one. But in this book, she has reached a new level of weirdness. And I'm not sure if I like this new Mia. A bit strange and unfamiliar. She seems a bit like a cross between a worshipful nun and a hippie.
The ending is so disappointing. Seriously. Is it cruel of me that I don't want either of them to end up together? And the ending is sort of weird... because Adam let her go. And then she came back to him. And suddenly, they are dating again and trying to make it work out. Hmm... it is so weird, because the "letting" go part was a big leap for Adam. And all of the sudden, she comes back. It just doesn't feel right.
[insert "Let It Go" gif here]
Overall, Where She Went is disappointing. Seriously, it totally fell way below my expectations for Gayle Forman. Aye. Gosh. Okay, I'm going to bed now to sleep this off. Night, night.
Rating: Two out of Five