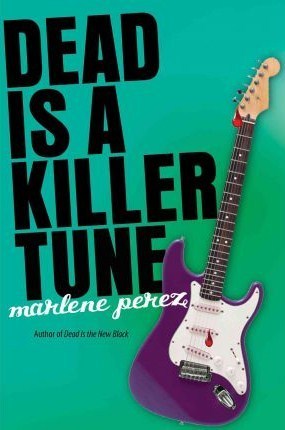 "High school freshman Jessica Walsh is a Virago—a woman warrior who must protect her hometown from danger. And in Nightshade, California, trouble is always lurking. At the town's Battle of the Bands, Jess's boyfriend, Dominic, and his band, Side Effects May Vary, are up against Hamlin, a band so popular, their fans follow them everywhere. Soon, the competing musicians are doing risky, illegal, and even fatal things—and claiming that they heard strange music that compelled them to do it. Can Jess and her friends track down the tuneful tyrant before it's too late?"
Yes, Dead Is A Killer Tune is another book from my to-reads list. I have almost fifty books on there, and I'm trying to get that number down (maybe to 30, or at least, down to the ones that aren't published yet). (In the parentheses, I was about to say "get down for what.")
Some background info about Dead Is a Killer Tune: It is the seventh book in the series (and it doesn't look like the author is going to write anymore, but who knows?). The sixth and seventh book of the series (still can't name it) can be its own series. The series (and this book) fits perfectly into the Supernatural/Paranormal of the YA section.
Also, the last time I'd read a book from this series is... two years ago. Or three. Yeah, yeah, yeah. It has been a really long time ago, which is why I prepped by rereading the synopsis of the previous book and hoping I can swing by. And yes, it turns out I can. Swing by, I mean. I winged it pretty well, in my opinion. Besides, this book can be its own standalone (now, this is starting to sound complicated).
Let's talk about the plot. Now there are two main plots. One is the theft of the supposedly magical flute and mysterious actions of competing musicians. Another is that whole romance thing between Jessica and Dominic. At times, the romance plot feels overbearing and "shoved in the face"-sort of like. However, most of the time the two plots are well-balanced and even manage to intertwine... all while making things even more complicated.
We all know the math for this one. Complicity = more drama. We don't need to have a PhD in math (or psychology) to figure that out.
Jessica's character is mostly static throughout the book. The book is more reliant on its plot and conflict than its characters. I should mention that Dominic's character is the same as Jessica's. Not many characters stand out. They aren't full-fleshed.
Overall, Dead Is A Killer Tune brings a suspense-filled story along with supernatural themes and creatures and magic. It is more of a mystery book, and if you're one for a mystery, then this one will be for you. Dead Is A Killer Tune is an entertaining ending to the series, but it is a neutral territory to me when I read it.
Rating: Three out of Five