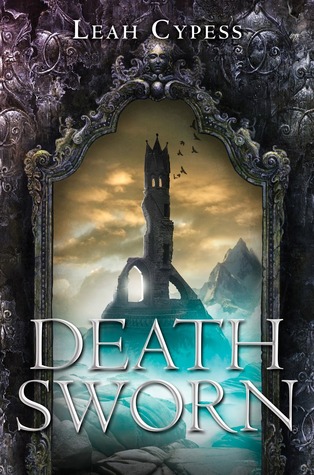 "When Ileni lost her magic, she lost everything: her place in society, her purpose in life, and the man she had expected to spend her life with. So when the Elders sent her to be magic tutor to a secret sect of assassins, she went willingly, even though the last two tutors had died under mysterious circumstances.





But beneath the assassins' caves, Ileni will discover a new place and a new purpose… and a new and dangerous love. She will struggle to keep her lost magic a secret while teaching it to her deadly students, and to find out what happened to the two tutors who preceded her. But what she discovers will change not only her future, but the future of her people, the assassins… and possibly the entire world."
I have mixed feelings on Death Sworn. Mistwood (the other book written by Leah Cypess) is great and fresh. Death Sworn, on the other hand, is a bit different than I originally expected. Let me elaborate this. It is going to get complicated. Let's start with the positives:
The romance between Sorin and Ileni is most definitely entertaining. Not steamy, though (however, there are some moments when it seems it might turn Rated-R, but no). They have a very curious relationship. Sorin, as a very devoted assassin to his master, definitely has some Talia al Ghul going on. He is devoted to his master (who can be seen as Batman's formidable enemy), but he also cares much about Ileni (which makes her Batman!). His empathy for other people's lives are low, but he is highly, highly determined to carry out his master's mission. And darn, that devotion creates so much drama for both Ileni and Sorin.
Thanks to her loss of everything she cared about in her life, Ileni has turned reckless. She goes to the home of assassins, and she deliberately taunts a few despite her dying magic. (The synopsis is misleading on this. One would think she already lost all of her magic. But no, she lost most of it. Not all of it.) She doesn't have a motive (though I wonder if self-destruction counts?) except to find the true murderer of the previous two tutors.
The mystery behind the case (or two murders, to be more specific) is the leading plot of Death Sworn. It is very intriguing, but...
The negatives (sort of):
As I said before, the case of the two murders is interesting. The desire to find the murderer is the driving force of the major plot and characters (including Ileni). In most mysteries, the author gives multiple suspects with possible motivations. The deliverance of further evidence is usually smooth and clean. The parts of that deliverance in Death Sworn is cut awkwardly and strange. It is not the usual murder mystery.
Furthermore, let me just say that the writing is dry (probably why the bombing of important information is weird). I believe I said something similar about Mistwood (didn't I?).
Also, the synopsis is misleading. (I know, I know, I put that in the positives.)
Overall, Death Sworn is a great (and adventurous book, even though the main character doesn't go anywhere). The characters are great and well-written. The conflict and the major arc is most definitely straightforward. Do I recommend? Maybe to those who like assassins.
Rating: Four out of Five