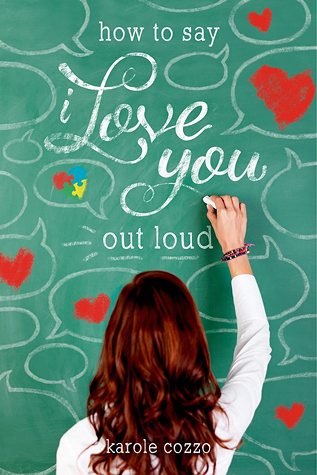 "Words are strong. Love is stronger.





When Jordyn Michaelson's autistic brother joins her at her elite school, she's determined not to let anyone know they're related. Even if that means closing herself off to all her closest friends, including charming football stud Alex Colby. But despite her best intentions, she just can't shake the memory of kissing Alex last summer, and the desire to do it again.





Can Jordyn find the courage to tell Alex how she really feels—and the truth about her family—before he slips away forever?"
NetGalley. Thanks for the copy.
Let me talk about How to Say I Love You Out Loud. It has a very long title. A very, very long title that makes me very, very ticked off to type out. So for short, I'm going to call it "How To Say," before I die from taking too short of a breath.
I'm not interested in the book. It couldn't get me hooked. So that is a mark against the book. Even though it has interesting characters (mainly Jordyn's brother) and Jordyn herself, I can't find myself liking it and enjoying it. Seriously, I was like... "When will this book be over? Ugh..." Seriously, I get annoyed with Jordyn's pining. Like... pining.
Unrequited love is not my favorite kind of love. Sorry.
Plus, the beginning of How To Say is slow. The middle is okay, and the book finally picks up around the time Phil joins Jordyn's school. Now that... is where everything gets interesting, and thankfully, the ride is much more entertaining from middle to ending. But I won't say smoother. Some parts of the middle/ending is bumpy. Some parts seems to be cut and pasted into the book. And I didn't even know that... Jordyn did that until she finally brought it up. (It would be the speech. It seemed so quickly and such a blur).
The meaning and true point of How To Say is really good and amazing. Family. Friendship. Sibling relationship. Autism.
(So How To Say isn't completely bad. I get it. I get the story. I get the characters, and I understand them. But... It is just boring).
The best part of How To Say is when Jordyn makes her speech. Now... that made me cry. Seriously. It made me cry. A lot. And hard.
Overall, How To Say I Love You Out Loud is boring to me. The writing didn't draw me in, and the characters didn't interest me very much. I say that it is the speech that got me interested in the book, but I don't like most parts of the book. The only part that is perfection (pure perfection) is the speech. Purity. And maybe the ending, too.
That is a good ending.
Rating: Two out of Five