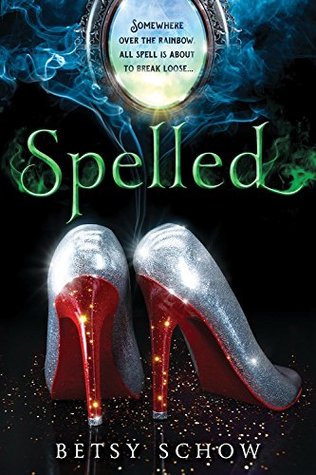 "Fairy Tale Survival Rule #32: If you find yourself at the mercy of a wicked witch, sing a romantic ballad and wait for your Prince Charming to save the day.

Yeah, no thanks.

Dorthea is completely princed out. Sure being the crown princess of Emerald has its perks—like Glenda Original ball gowns and Hans Christian Louboutin heels. But a forced marriage to the brooding prince Kato is so not what Dorthea had in mind for her enchanted future.



Talk about unhappily ever after.



Trying to fix her prince problem by wishing on a (cursed) star royally backfires, leaving the kingdom in chaos and her parents stuck in some place called "Kansas." Now it's up to Dorthea and her pixed off prince to find the mysterious Wizard of Oz and undo the curse...before it releases the wickedest witch of all and spells

The End

for the world of Story."
NetGalley! Thanks for the copy.
Let's talk about Spelled. From the very synopsis, you can tell that the book will be wicked. There is definitely a mashup of all the characters from familiar fairy tales. You have mere mentions of Cinderella, Snow White, Rapunzel, and other such characters. But we focus on one girl named Dorthea, who is the princess of her kingdom.
Yes, there is going to be a lot of references to the Wizard of Oz. The shoes, the name Dorthea itself, and definitely the merest mention of Kansas should set off a lot of alarms.
Spelled is hilarious and wicked. I really enjoy the book from start to finish. There are so many things one can laugh at, and the book is pure gold. Dorthea is most definitely the spoiled princess (and a huge brat), but she is also great and wonderful. (Isn't that crazy?) Dorthea, as a character, really grows in an amazing way. She starts off as perhaps the most unlikable character in the entire book to the most wonderful heroine. Plus, her inner thoughts (sass, to be correct) and little quips are amazing to read. She is one heck of a character.
(To be truthful, she isn't that unlikeable. I like her from the very beginning.)
You can dig deep and find a much more hidden world in Spelled. I can say that there are little references (that acts like clues in a scavenger hunt) to other fairy tales and the most important book of all (for this book), The Wizard of Oz.
I forgot about Kato and his awesomeness. His relationship with Dorthea is one of most entertaining relationships to watch (along with Doretha and her new BFF). Even though Kato doesn't talk much (long story there), their actions together (or apart) speaks lengths. Funny how simple expressions and actions forge a relationship.
I can't stop mentioning how many parallels there are between The Wizard of Oz and Spelled. So many parallels. I just have to empathize it.
Overall, Spelled is a hilarious book that has a wonderful attitude and magical world. There is a collection of characters, and readers who know fairy tales well will most definitely enjoy matching up Spelled's characters with their traditional counterparts (and by that, I mean Hans' fairy tales and Grimm's fairy tales and The Wizard of Oz itself). It is easy to think Spelled as the written version of OUAT (Once Upon A Time, which is a tv show currently airing on ABC).
Rating: Five out of Five