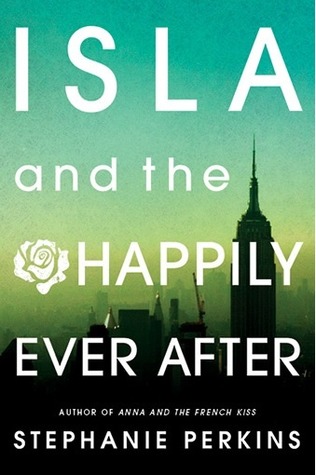 "Love ignites in the City That Never Sleeps, but can it last?





Hopeless romantic Isla has had a crush on introspective cartoonist Josh since their first year at the School of America in Paris. And after a chance encounter in Manhattan over the summer, romance might be closer than Isla imagined. But as they begin their senior year back in France, Isla and Josh are forced to confront the challenges every young couple must face, including family drama, uncertainty about their college futures, and the very real possibility of being apart.





Featuring cameos from fan-favorites Anna, Étienne, Lola, and Cricket, this sweet and sexy story of true love—set against the stunning backdrops of New York City, Paris, and Barcelona—is a swoonworthy conclusion to Stephanie Perkins's beloved series."
Isla and the Happily Ever After is the conclusion of this series (which I can't name for the love of my life). This time, we have Isla and Josh as our main stars. As said in the synopsis, the main characters from the two previous books have cameos. And yes, I'm so excited whenever I see St. Clair. (So excited!)
The romance between Josh and Isla start off right away. Like Romeo and Juliet (can't think of any other couples to compare them to), they fall in love. However, time and circumstances break them apart. There is a lot of angst and love, drama and problems. But all of that is worth it, even though Josh and Isla think not. (I admit that the drama gets so messy at some points and hilarious at others. Well, hilarious to me.)
Who is better? Josh or Isla? Honestly, I can't tell. As characters, both Isla and Josh are great and well-written characters. Isla, especially, is great at empathizing with the readers while Josh is a bit more frosty (and no, not in Jack the Frost way). Both of them are complicated in their own ways, and each of them bring their own load of baggage in their own way. However, they do compliment each other well.
Did I mention their chemistry? Did I?
I must had forgotten. Their chemistry is great.
The plot starts off quickly and guides the readers through a wild romance along with a ton of drama (family, romance, and friendship. The three theses) along the way. My goodness, I'd forgotten how good Perkins' writing is over the years. The last time I'd read one of her books is about two years ago. Give or take.
I have to say... Wait, there is a mild (MILD) spoiler here... I have to say that the ending is perhaps the best part of the entire book. Along with the beginning. Along with the time they are in Europe... Which is like most of the book.
So I'm in love with the book.
Overall, Isla and the Happily Ever After is a great book of romance and young love. There is some good passion here that will get your heart racing. The book can be a standalone. Or you can read the entire series. Either way.
Rating: Five out of Five