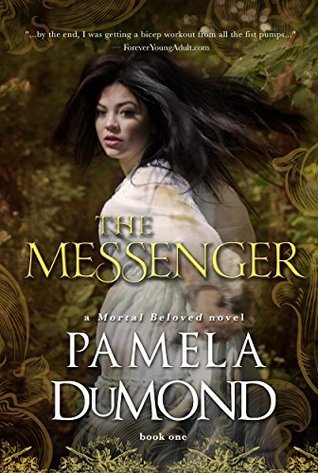 "Do you remember the first time you fell in love?





Read The Messenger (Mortal Beloved, Book One) and feel that beautiful—again.





Sixteen-year-old Madeline's meant to fall in love with Samuel in every lifetime. But she meets him for the first time when she accidentally time travels into the past—hundreds years before she's even born!





Their relationship is forbidden—Samuel's half Native, Madeline's white. Every rendezvous they share must be secret. Each moment they spend together tempts the odds that they'll be discovered and brutally punished. But their love is fated—they musk risk all.





Danger intensifies when Madeline learns she's in the past not only to fall in love, but also to claim her birth right as a Messenger—a soul who can slip through time's fabric at will.





Deadly Hunters, dark-souled time travelers, crave Madeline's powers and seek to seduce or kill her. Can Madeline find her way back to the future in time to save herself and Samuel?"
Netgalley. Thank you for a copy of this book.
The Messenger is a fairly short book. It is about one hundred pages. A bit more than that. Typically, I don't read short stories, but I guess that this one counts as one. Anyway, I believe The Messenger fits the best in YA Historical Fiction. But anyway, let's talk a bit more about The Messenger.
I have to say that even though The Messenger is short, it is slow. It is really slow, and I couldn't really get into it for the most part. There is quite a number of things to remember, and the world building isn't very good either. There isn't enough details, and some parts of it felt repeated over and over again. A bit redundant.
Is it boring? Hmm... I would say at least 30 percent of the book is boring while the rest is mostly okay. The Messenger isn't exceptional, but it isn't bad. There is some work that needs to be done, and maybe, there should be a little bit more... mystery. Or at least, the book should evoke a little more emotions from the reader. Honestly, I didn't feel any of that.
There isn't that life in The Messenger. It is dry. A bit flakey and hard to take in.
The romance isn't fitting at all. There are some parts where I'm like... Huh? What is going on? The romance probably isn't inconsistent at all, but there are some parts that seems to be disconnected. Imagine a line. A straight line. Then you take a finger and follow the line. All of the sudden, there seems to be some breaks in the line. That is what the romance is like. Some odd parts. Some parts that didn't quite click right.
Honestly, I feel like The Messenger is more like a first draft than a final draft. There is a lot of things to work out, and there isn't... smoothness in the storyline.
I'm not even going to start about Madeline.
The world-building is still... Well, there are cracks. I didn't quite understand everything. There are Hunters, Healers, and Messengers. Hunters... Well, I don't get why they are hunting Madeline. Healers... I wish I have more information on them. And Messengers... Well, I wish that there is more information on that, too. It feels uncomfortable not knowing about everything.
Overall, I think The Messenger isn't a bad book (not bad enough to make me throw my computer across the room). But it needs a lot of work.
Rating: Two out of Five