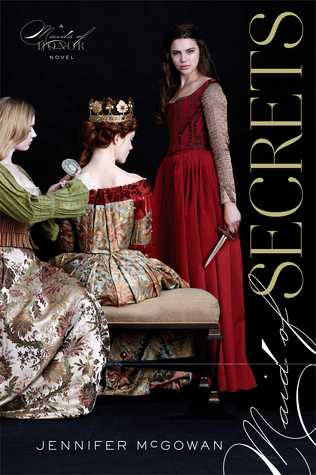 "Orphan Meg Fellowes makes her living picking pockets—until she steals from the wrong nobleman. Instead of rotting in prison like she expected, she's whisked away to the court of Queen Elizabeth and pressed into royal service, where she joins four other remarkable girls in the Maids of Honor, the Queen's secret society of protectors.





Meg's natural abilities as a spy prove useful in this time of unrest. The Spanish Court is visiting, and with them come devious plots and hidden political motives. As threats to the kingdom begin to mount, Meg can't deny her growing attraction to one of the dashing Spanish courtiers. But it's hard to trust her heart in a place where royal formalities and masked balls hide the truth: Not everyone is who they appear to be. With danger lurking around every corner, can she stay alive—and protect the crown?"
Most interesting. Espionage. Though I'm sadden by the fact that the author, Jennifer McGowan, didn't add a Historical Note at the end of the book. History does make things more interesting, doesn't it? And Elizabeth the First is perhaps one of the most remarkable monarchs of all queens and kings of England. Or so one could say.
Anyway, we meet with five unique girls. (Great. This sounds like an intro from Charlie's Angels. And I can never figure out whether it should be Charlie or Charles). There is Meg, who is basically a thief and a grifter. Sophia is the seer (who can predict the future). Jane is the hitter. (And yes, I'm using Leverage's terms). The girl whose name starts with a B (and certainly acts like one) is also a grifter, who is very good with men. And there is one more. Oh, yes. Anna. She is the hacker of the group (though they don't have computers at that time). She is more like a math wiz.
Maid of Secrets is definitely a whirling tale of espionage in a historical time. It is amazing to see all of these girls spying for the Queen. I absolute enjoyed it from beginning to the end. It took a while to finish it, but yes, it is worth it. However... I did have a few issues with it.
(As usual).
One of them is a man named Rafe. He is a possible enemy. He is a possible ally. He is a possible killer. He is a possible foe. He is a possible suspect. It is all very complicated, and Meg's feelings towards him makes it all even more murky. I greatly enjoy the dynamics, but I'm greatly disappointed by the lack of closure in the end. (Perhaps that is why this book is the beginning of a trilogy/series. Makes sense, actually).
And there is another love interest. A minor one. So minor that it is perhaps even worse when Meg returns feelings for him. I can't help but find not a single good ending to this relationship. And I don't know what to think of it. It is absolutely unneeded. Seriously. (Narratively speaking, the entire subplot doesn't make sense at all).
The history touches and actual protrayal of historical figures are very nice. Elizabeth is always nice to see. Robert Dudley (but I can't help but imagine Dudley from Harry Potter) is a nice addition. And I believe Sir Cecil is also part of history, but for the life of me, I can't be sure whether or not that is true.
Anyway, Maid of Secrets is a great book. There are some issues, and I find many subplots to be greatly annoying. The plots (evil plots by villains) are a little bit confusing, but it clear up. Great book, so...
Rating: Four out of Five