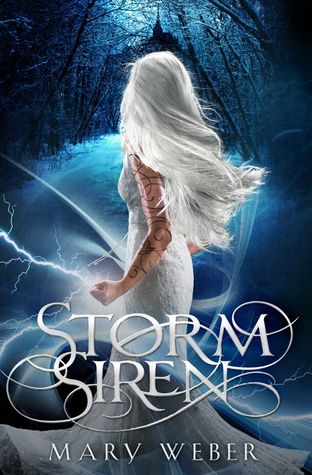 ""I raise my chin as the buyers stare. Yes. Look. You don't want me. Because, eventually, accidentally, I will destroy you."



In a world at war, a slave girl's lethal curse could become one kingdom's weapon of salvation. If the curse—and the girl—can be controlled.





As a slave in the war-weary kingdom of Faelen, seventeen-year-old Nym isn't merely devoid of rights, her Elemental kind are only born male and always killed at birth — meaning, she shouldn't even exist.





Standing on the auction block beneath smoke-drenched mountains, Nym faces her fifteenth sell. But when her hood is removed and her storm-summoning killing curse revealed, Nym is snatched up by a court advisor and given a choice: be trained as the weapon Faelen needs to win the war, or be killed.





Choosing the former, Nym is unleashed into a world of politics, bizarre parties, and rumors of an evil more sinister than she's being prepared to fight . . . not to mention the handsome trainer whose dark secrets lie behind a mysterious ability to calm every lightning strike she summons.





But what if she doesn't want to be the weapon they've all been waiting for?





Set in a beautifully eclectic world of suspicion, super abilities, and monsters, Storm Siren is a story of power. And whoever controls that power will win."
I just read the ending, and I'm torn into pieces. And also, I officially hate the author. Because of all the feelings she put me through. How dare she make that ending? Oh, seriously! That was pure torture and completely uncalled for! I mean, I just innocently picked up your book, and suddenly, Mary Weber decided to stab me in the back just when I thought it was completely safe to take a breath! Or rain check!
My gosh. Absolutely terrible!
And yeah, I'm going to read the sequel.
Storm Siren is a great book. I really like it, even though the ending devastated me like crazy. And I really enjoyed it from beginning to end. Let's take a look at this crazy, not to mention, awesome book in a closer detail.
First of all, the dialect is a bit confusing. Yes, some of the letters are cut off in annoying ways. Her becomes "'er" and there are a bunch of things I had to reread so I could be sure I absorbed all the info. Yes, yes, yes. The dialect is confusing, in short. But it isn't that bad. If you sound it out inside of your head, it does make sense.
Second, the plot falls together very well. There are a lot of political intrigue (though I'm slightly disappointed there isn't as much as I liked), and things are very complicated. Enemies are closer to Nym than she thinks, and it all makes it very dramatic. It is a crazy ride from beginning to end.
And let's talk about that ending. Uncalled for! Seriously! I want to go over to Mary Weber's house and start carolling this: "WHO DO YOU THINK YOU ARE? RUNNING AROUND LEAVING SCARS." And I personally think that I have an excellent singing voice. Seriously. I think I do, and I think I can pull it off (and I can add tears).
Nym is a great character. She hides behind a self-loathing personality, and she is really, really dark sometimes. I think the addition of the lightness of Colin (the bald friend) really helped her. It changed her, definitely for the better. And I really like what he says at the end, even though it is really sad.
Overall, Storm Siren is a wonderful book. Better than average. And I'm going to be waiting for summer. The sequel comes out this summer.
(But there is apparently a third book, so I will wait. Patiently. While singing "Jar of Hearts").
Rating: Four out of Five