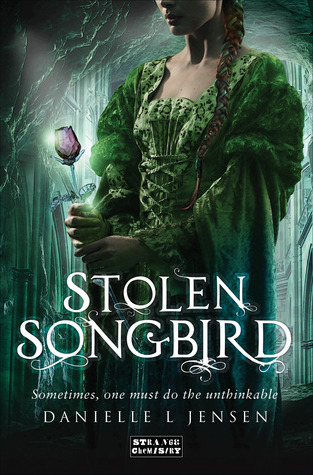 "For those who have loved

Seraphina

and

Graceling

comes another truly fabulous fantasy...





For five centuries, a witch's curse has bound the trolls to their city beneath the ruins of Forsaken Mountain. Time enough for their dark and nefarious magic to fade from human memory and into myth. But a prophesy has been spoken of a union with the power to set the trolls free, and when Cécile de Troyes is kidnapped and taken beneath the mountain, she learns there is far more to the myth of the trolls than she could have imagined.





Cécile has only one thing on her mind after she is brought to Trollus: escape. Only the trolls are clever, fast, and inhumanly strong. She will have to bide her time, wait for the perfect opportunity.





But something unexpected happens while she's waiting – she begins to fall for the enigmatic troll prince to whom she has been bonded and married. She begins to make friends. And she begins to see that she may be the only hope for the half-bloods – part troll, part human creatures who are slaves to the full-blooded trolls. There is a rebellion brewing. And her prince, Tristan, the future king, is its secret leader.





As Cécile becomes involved in the intricate political games of Trollus, she becomes more than a farmer's daughter. She becomes a princess, the hope of a people, and a witch with magic powerful enough to change Trollus forever."
I enjoyed Stolen Songbird very much. Cecile (without the accent mark) is the stolen songbird of the title. Obviously. Because she sings and she is kidnapped in the book... And no, that isn't a spoiler. That is obvious. Too.
Tristan, the future king, has a very big ego. Well, it is a bit complicated. But he is a great guy. Or troll. And yes, he is literally and figuratively a troll. Just like the trolls you see in the Youtube comments or anywhere else. Internet is full of them. However, he is such a great guy, but his comments are so witty and hilarious. I mean, he is a Sassy Prince. I'm not kidding. His sass just kills me. I love it!
Cecile (without the accent mark) is a very special girl. She has red hair (which is totally rare) and she knows how to read. In the Middle Ages, few people knew how to read. Most of the readers (who knew how to read) are men. It is rare for a girl to be able to read. Kind of interesting, right? Yeah, I think so too. The girl is smart and intelligent. I don't know if she developed Stockholm's Syndrome, but if she did, then I have it too. Because Tristan (who is indirectly involved in her kidnapping) is really hilarious and lovable.
So the book has strong characters. What about the plot? It is really good. I never wanted it to end (but of course, everything that is good must end). The plot goes by fast, and it never lost me once. The political world of Stolen Songbird intrigued me, and I enjoy reading and reading. It is really good, but I don't recommend it. Or at least until the next book comes out. Because this one is just too darn good to read so early!
The ending ends in a cliffhanger. It is the major reason I don't recommend reading this book right away. At least wait until the sequel comes out.
Because you are going to get so angry and vicious.
Overall, Stolen Songbird is a great book. I would recommend it once the sequel comes out, but until then, don't read it. Strange advice, isn't it? Methinks not. It is a great piece of advice. Reading books, saving people, the family business.
But the book is really fun to read. There is humor, there is good characterization, and there is a hottie/love interest.
Rating: Five out of Five