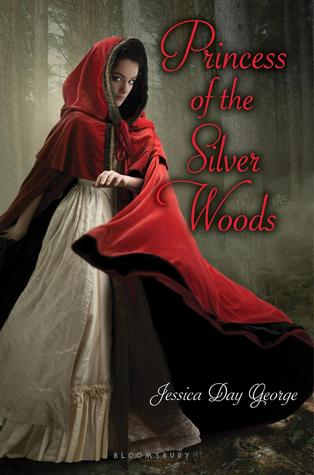 "When Petunia, the youngest of King Gregor's twelve dancing daughters, is invited to visit an elderly friend in the neighboring country of Westfalin, she welcomes the change of scenery. But in order to reach Westfalin, Petunia must pass through a forest where strange two-legged wolves are rumored to exist. Wolves intent on redistributing the wealth of the noble citizens who have entered their territory. But the bandit-wolves prove more rakishly handsome than truly dangerous, and it's not until Petunia reaches her destination that she realizes the kindly grandmother she has been summoned to visit is really an enemy bent on restoring an age-old curse.

The stories of Red Riding Hood and Robin Hood get a twist as Petunia and her many sisters take on bandits, grannies, and the new King Under Stone to end their family curse once and for all."
Ahh... Princess of the Silver Woods. I already read the book before this one, the prequel. Sequel of Princess of the Midnight Ball. I actually read the middle book first, and I wasn't lost at all. It was really nice. And I can so easily pop in now. I totally and absolutely applaud Jessica Day George. Good recap, and supplies enough information for readers to survive the plot of the current book they're reading.
Let's break this down.
Princess of the Silver Woods is definitely good. I actually like this one more than Princess of the Midnight Ball. Petunia, the youngest princess of the twelve princesses, is certainly the most awesome and baddest of them all. She could shoot a pistol without a flutter of her eyebrows. That girl is very well train. With weapons. I have to admire her. She has been to places where they should had frightened her to witless, but she still manages to go in. Then again, she was practically born in that situation. All thanks to her mother.
A two hundred and fifty something paged book, Princess of the Silver Woods is most fun and fast-paced. I finish the book so quickly that I can't wait to read other books from Jessica Day George. Unfortunately, I can't do that (sorry, Ms. Day George). I have a huge stall in my to-reads list. I need to work on that, too.
The man. The wolf. I don't know what he is other than an Earl of a land that no longer exists. Hmm... Not exactly. It still exist, but he no longer owns it. I think he is somewhat of an idiot compared to Galen. But... Well, he does have loyalty and other qualities presented in a dog. Great, now I'm practically cursing him for his idiocy. I mean, that he isn't as clever (then again, Harry Potter isn't either), but he does possess better traits. Like kindness.
I really enjoy the retelling parts of this book. It is great, and Jessica Day George pulls it off well. It is similar to Red Riding Hood, but different enough that some readers (who probably never read Red Riding Hood) could imagine it as an original work.
Overall, I think Princess of the Silver Woods is worth reading. Yes, it is a great book with wonderful characters and a fantasy world that can easily take you away to another place. I like it. I like it even better than The Princess of the Midnight Ball. But it isn't better than Jessica Day George's gorgeous retelling of East of the Sun, West of the Moon.
Rating: Four out of Five