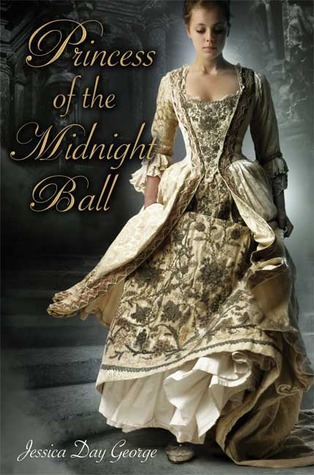 "A tale of twelve princesses doomed to dance until dawn…



Galen is a young soldier returning from war; Rose is one of twelve princesses condemned to dance each night for the King Under Stone. Together Galen and Rose will search for a way to break the curse that forces the princesses to dance at the midnight balls. All they need is one invisibility cloak, a black wool chain knit with enchanted silver needles, and that most critical ingredient of all—true love—to conquer their foes in the dark halls below. But malevolent forces are working against them above ground as well, and as cruel as the King Under Stone has seemed, his wrath is mere irritation compared to the evil that awaits Galen and Rose in the brighter world above.





Captivating from start to finish, Jessica Day George's take on the Grimms' tale

The Twelve Dancing Princesses

demonstrates yet again her mastery at spinning something entirely fresh out of a story you thought you knew."
No, I'm not going to go on a fairy tale spree. Not yet. I still have to finish my other to-reads books, because they deserve more attention and interest. This is one last book before I read the other books. Just in case something is rotten. Then at least, I have a good book to think about. A really good book to think about. Like Once Upon a Time-ish.
Princess of the Midnight Ball is obviously based on the tale, The Twelve Dancing Princesses. There is a Barbie version of that tale, I believe. The eldest princess ends up with the shoemaker in that tale, right? I can't remember, but I know it was much more pleasant than this one when the girls were forced to dance all night long. Midnight, you might say. And yes, it is sick.
Before I start cracking down on the finer points of this fairy tale retelling, I'm going to say that I'm a fan of Jessica Day George. She is good. I loved her retelling of East of the Sun, West of the Moon (which might be the wrongly stated, but please correct me if I do state it wrong). They are all good. Every retelling I'd read so far. And this one is no exception. Princess of the Midnight Ball might have a long title, but it is good and I couldn't let go. It was addicting and fast, and I really enjoyed the book being told from two perspective. Princess Rose (the eldest daughter and princess, obviously) and Galen (the gardener).
This book still follows the original tale. There are some parts of it that makes you so surprise by the little things. Like that old hag who gifts Galen an invisibility cloak. I'm sure Jessica Day George takes pleasure in stating how an invisibility cloak is dangerous. Hint: You can't be seen.
Princess of the Midnight Ball explores the other details of the old tale. It goes in to describe the bad forces and the mysteries of the entire world. There is magic, yes. But the whole thing remains mysterious. And I really liked it. The author's writing captivated me from the beginning to the end. Now I want to reread the second book (which I read a long time ago).
And I can see no fault to this book. It is better than I thought and exceeded my expectations.
Galen takes center stage, unlike the princess. Well, he takes most of center stage. His character is louder than any other, and I like him the most of all. Even over Rose, yes. Well, I'm done now. So tired. And sleepy. (Night).
Rating: Five out of Five