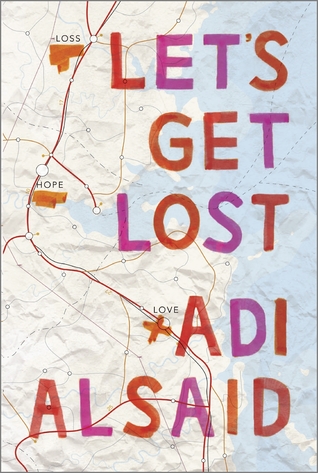 "Five strangers. Countless adventures. One epic way to get lost.





Four teens across the country have only one thing in common: a girl named LEILA. She crashes into their lives in her absurdly red car at the moment they need someone the most.





There's HUDSON, a small-town mechanic who is willing to throw away his dreams for true love. And BREE, a runaway who seizes every Tuesday—and a few stolen goods along the way. ELLIOT believes in happy endings…until his own life goes off-script. And SONIA worries that when she lost her boyfriend, she also lost the ability to love.





Hudson, Bree, Elliot and Sonia find a friend in Leila. And when Leila leaves them, their lives are forever changed. But it is during Leila's own 4,268-mile journey that she discovers the most important truth— sometimes, what you need most is right where you started. And maybe the only way to find what you're looking for is to get lost along the way."
Well, I got a copy of this book from Harlequin Teen. Awesome Christmas gift, and definitely a great book to cheer me up.
So there are five characters. I can most certainly break them down. But let me tell you that Leila is the most consistent character of the entire book. She is in every section of the book (there are five sections). She is most certainly the most mysterious of all characters.
Hudson. He starts the book off. He is the first section (of five sections). He is on the way to becoming a doctor until chance brings Leila and him together. I can say there is romance involved, and there is a ton of interesting things happening between them and that doctor idea. (I'll say that this is one of the more interesting parts of the book. Leila's part is tied with it).
Then Leila leaves and finds her way to Bree. Or rather... Yeah. Never mind. She finds Bree and helps Bree and her gaggle of problems. Bree is changed by her rather quick connection with Leila. And hopefully for the better. Leila moves on again. (Fourth most interesting part).
To Elliot. He is chasing after his friend, who friendzoned him. He is trying to be like what it is in the movies (which was a hopeful plot to me), until his friend friendzoned him (as I said before). He and Leila tries a bunch of things to get Elliot and his best friend together. It all goes sideways before Elliot gets on the right path. (Fifth most interesting part).
Sonia. Oh, I love her part the most. I especially enjoy Leila and Sonia's attempts to sneak back into Canada. And all those things about the donuts. My, my. So amusing. They tried about three times to go back into Canada, and all of them are quite interesting. (No, I'm not planning to sneak into Canada anytime soon). Sonia is my favorite part of the book. The entire section is entertaining, and even crazy at times.
Then there is Leila. She is running away from her past. Out of them all, her past and character is the biggest mystery. I feel like Hudson and her... Ehh... It was pretty tame, but I did see a connection. Never mind. I see that there is no problems there. But I find her past and problems very bittersweet. (Some of you might know what is happening here...)
Anyway, I think Let's Get Lost is a good book. Every character is running away from something or running to someone. In the end, they all find what they are looking for. In conclusion, this is a book of Happy Endings. Or Happy Beginnings.
Rating: Four out of Five