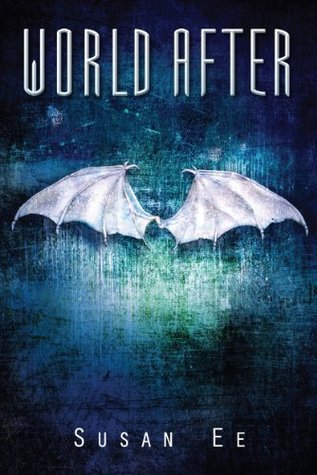 "In this sequel to the bestselling fantasy thriller, Angelfall, the survivors of the angel apocalypse begin to scrape back together what's left of the modern world.

When a group of people capture Penryn's sister Paige, thinking she's a monster, the situation ends in a massacre. Paige disappears. Humans are terrified. Mom is heartbroken.

Penryn drives through the streets of San Francisco looking for Paige. Why are the streets so empty? Where is everybody? Her search leads her into the heart of the angels' secret plans where she catches a glimpse of their motivations, and learns the horrifying extent to which the angels are willing to go.

Meanwhile, Raffe hunts for his wings. Without them, he can't rejoin the angels, can't take his rightful place as one of their leaders. When faced with recapturing his wings or helping Penryn survive, which will he choose?"
World After is a great sequel to Angelfall. It is such a shame that World After came out in 2013 while Angelfall was published in 2011. By logic and patterns, that means the third book which remains untitled will come out in 2015. Now that is just annoying me. And that is only the third book! Sigh! At least 2/5 is already out. Fourth book in 2017. Fifth book in 2019. I wished I read this series a bit later than originally planned, but it is so good!
World After follows Penryn's journey to find Paige and Raffe (though he is technically a second thought, an after thought). Penryn's adventure is hard, especially in the beginning. And it doesn't get any easier. With the help of her mother and Pooky Bear (the archangel sword from Raffe), Penryn goes to find Paige who is no longer the sweet innocent girl she once known. Changed by experiments, Paige is a monster/machine/human. She is the only one of its kind after all the others had been destroyed in the first book, Angelfall. Oh, I should had mentioned there will be some spoilers.
The plot goes by really fast. It is perfectly paced. Like war and supernatural combined all together. A lot of the parts are perfect. Paige's runaway part in the beginning is a bit shady, but it gets clearer as the plot goes on. However, Raffe's entrance in the ending of World After is perfect. I love it. Penryn catching his eye and Raffe stopping in his tracks and forgetting himself. That part is probably my favorite of all parts and pieces in World After. Raffe + Penryn. I totally ship them. They are the most unlikely couple, but the Daughter of Men and the Archangel Raphael makes a great pairing. (What? I kind of gave it away when I told you the sword Penryn uses is an archangel blade. Who else uses an archangel blade? Duh, an archangel. And that would be Raphael. In this literature world, there are only four. One is dead).
Penryn is tough. Not to mention a bit careless with her own life. She goes through a lot of trouble just to find her little sister, Paige. It is admirable, but it is unbelievably crazy. I won't be surprised if Penryn goes through the exact same thing to find Raffe. Or her mother. She is that loyal and that loyalty can so get her killed. It is just like Percy Jackson all over again.
Raffe is still the same. Sarcastic. Despite his strange wings. But he seems a bit cozy with the Daughter of Men (Penryn, duh).
What needs to happen: Penryn be revealed to the rest of the angels, Pooky Bear to return to Raffe (the original owner of the sword), Raffe to spill out his feelings, more questions about God and other supernatural creatures.
Rating: Five out of Five