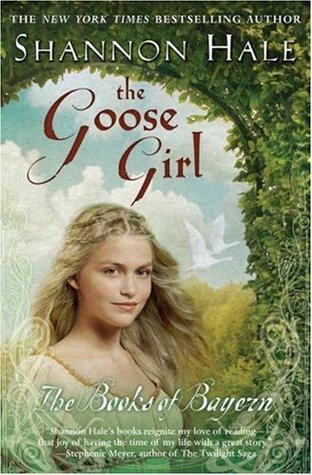 "Anidori-Kiladra Talianna Isilee, Crown Princess of Kildenree, spends the first years of her life under her aunt's guidance learning to communicate with animals. As she grows up Ani develops the skills of animal speech, but is never comfortable speaking with people, so when her silver-tongued lady-in-waiting leads a mutiny during Ani's journey to be married in a foreign land, Ani is helpless and cannot persuade anyone to assist her.





Becoming a goose girl for the king, Ani eventually uses her own special, nearly magical powers to find her way to her true destiny. Shannon Hale has woven an incredible, original and magical tale of a girl who must find her own unusual talents before she can become queen of the people she has made her own."
Well, The Goose Girl is definitely a book that makes me smile. This is not a stupid 2D fairy tale with stupid princes with little character and princess who are guided/controlled by fairies. This is The Goose Girl by Shannon Hale, which is definitely a book I had my eye on for many months. When I finally get it, I have to say that I'm pleased to finish it and finally close the file on this long search.
The Goose Girl might be based on a fairy tale, but that isn't likely. It is truly one unique book, with a Prince Charming in the end. Girls, there is a Happily Ever After in the end and it is beautiful. I really liked it. I really liked it.
Anidori is certainly one heck of a character. She is sort of soft and weak in the beginning, but her character growth is astounding. She learns how to be brave. She learns how to make friends, real friends. She learns how to fight. She learns how to survive without help. And when she finds help, she doesn't depend solely on it. She learns how to stand for herself. And most important of all, she finds her words.
The story of The Goose Girl is compelling and beautiful (as I said before). All the twists and little turns make it delightful. It is somewhat predictable, but I will admit that some aspects of The Goose Girl was pleasantly surprising. Even the true Prince Charming was delightful to read and pore over. And the Prince Charming? Well, he is more awesome than any Disney Prince Charming (with the exception of Li Shang, Flynn Rider, and a few other guys).
Is there any other good parts? Why, yes, of course, there is some good other parts. Shannon Hale has some tricks up her sleeve.
Every story has a villain. Anidori's lady-in-waiting is The Goose Girl's main villain. Of course, there is some other conflicts here and there, but Sophie is one of the biggest players. (Conflicts include possibility of war, identity crisis, and other things). Sophie may not be compelling, but she is certainly crafty.
Overall, I think The Goose Girl is best in all hands. Maybe some boys will act inappropriately to it, but I think it is great.
Best part: The moment when Geric proves Anidori is innocent/the moment he lends her a helping hand.
Rating: Four out of Five