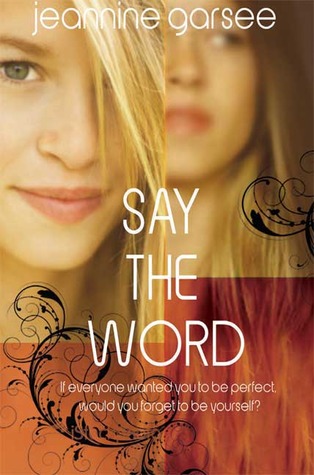 "Dredging up the past can knock the present right off balance.





The world expects perfection from seventeen-year-old Shawna Gallagher, and for the most part, that's what they get. She dates the right boys, gets good grades, and follows her father's every rule. But when her estranged lesbian mother dies, it's more than perfect Shawna can take. Suddenly, anger from being abandoned ten years ago is resurfacing along with Shawna's embarrassment over her mother's other family. As she confronts family secrets and questions from the past, Shawna realizes there's a difference between doing the perfect thing and doing the right thing.





Shawna's honest and relatable voice will draw readers in and hold them until the last page in this coming-of-age story. Jeannine Garsee has delivered a compulsively readable second novel, perfect for fans of Sarah Dessen and Laurie Halse Anderson."
Well, for such a high and praising synopsis, I expected better than this. (I will tell you right away that this review will definitely be shorter than usual). Yes, it is coming-of-age, but it isn't too inspiring or anything. Instead, it was pretty floppy and boring.
Shawna, first of all, is easily floppy. She doesn't know who she is, but she seems to have multiple personality disorder. After all, there is Perfect Shawna (which is used for her father), Pathetic Shawna (who is used for herself), and Evil Shawna (which is the personality used for anyone who annoys Shawna too much). But strangely, her brother Sam or Schmule definitely has multiple personality disorder. He is Sam. And he is Schmule. Sam is for his real father (Shawna's father). Schmule is for everyone else. Oh, also, he might be suicidal. And he is only ten years old! I think Say the Word should had been narrated by him, not Shawna. Without her father, Shawna would be perfectly fine. And Sam/Schmule? Well, that is his character change. With him, anything impossible becomes possible.
Say the Word is no pretty story. Ironically, Shawna is a kidnapped victim with Stockholm's syndrome. Of course, that is according to Schmule. He once said that the victim would easily identify with the kidnapper and all the other creepy stuff. Interestingly enough, Shawna soon realizes how close it hits home. She wants to be a doctor (like her father). She pretends to be someone else (for her father). She dumps boyfriends (because of her father). At first, I thought Shawna just had tons of mommy issues, but it wasn't just that. It was the freaking daddy issues plus Stockholm's syndrome. Isn't that fun?
It should all be interesting, right? Well, I make the summary interesting. But the book? It is terrible. There is no sense of suspense. There should had been hints of what Fran and Shawna's mother were hiding, but it is so boring. I nearly gave up by the first chapter. That boring! And the plot? Terribly slow. I'm not even going to talk about. It is just not worth it.
Finally, I will mention the cover. It totally reminds me of the girl from North of Beautiful. I think it is probably from the same photoshoot or something like that. The girls look exactly alike. Either it is the same person (most likely) or they are twin (not likely).
Rating: Two out of Five (Nice thing with mental illness, author).