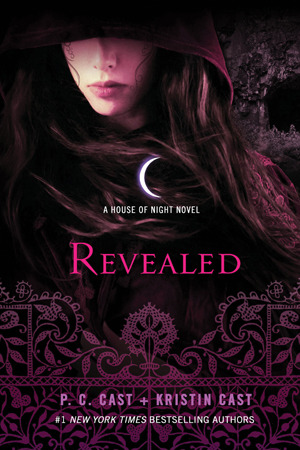 "The spellbinding eleventh and penultimate installment in the #1 New York Times bestselling vampyre series





Drastically altered after her fall at the end of Hidden, Neferet is now more dangerous than ever—and her quest for vengeance will wreak havoc on humans, as well as Zoey and her friends. Chaos is loosed in Tulsa and the House of Night is blamed. Can Zoey stop Neferet in time to keep her anger from escalating to full-on war? Or will someone else have to step in to take the fall?





The House of Night series is an international phenomenon, reaching #1 on U.S., German, and UK bestseller lists, and remaining a fixture on The New York Times Children's Series bestseller list for nearly 150 weeks and counting. With more than 12 million copies in print, rights sold in thirty–eight countries to date, and relatable, addictive characters, this series is unstoppable. Now, in the eleventh and penultimate installment of the series, the action is more intense and the stakes even higher as Zoey and her friends battle to protect their school and home from devastating evil—all while balancing romances, precarious friendships and the daily drama of the House of Night's halls."
This book has me banging my head on my table. Is this freaking series over yet? Gosh, this makes Harry Potter look like a freaking short trilogy. (And I will be reading Harry Potter again). Revealed is, of course, tiring. It could had ended in the previous book, but noooooo! It has to keep going until the last and final book.
Anyway, I'm probably should tell you that I'm automatically giving this book a one out of five (a low) because of how long it is, but that is terrible judging. So I will break it down. And reevaluate my decision. Which is unlikely, but plausible.
First of all, when did Stark suddenly become a controlling freak with a bunch of insecurities? I mean, seriously, he is a warrior. I thought he had (sorry to be so vivid) more balls than that. Wow, that must had upset me more than I thought. Anyway, he has suddenly become so needy and insecure. It is like that man is at the worst point of his character. What is changing him so badly? Oh, and don't say Heath. I will be upset. Heath, for one, shouldn't bother him that much. I mean, seriously? Heath is Heath. He died and doesn't remember his former life.
And when was there a sequel to this book? It is such a disappointment that this book couldn't be the end of it all. Yeah, I see Neferet coming out (not in a sexual way, although we can argue about that) as the big bad in the next book.
Revealed is told by a bunch of characters. I'm not embarrassed to say that I can't keep track of them all. There is just too many of them. Three characters is good. Anything below that number is great. Four is a little shaky, but as long as the author is able to differentiate them to the readers, the book can flow easily. Five is too many. Six? That even worse. Heck, I don't even know the correct number of POVs told in Revealed. Let's see. Actually, let's not see. There is probably seven POVs or maybe more. (Favorite POV: Neferet. Her scars and thoughts for revenge as a spoiled child of Nyx, who is not biologically related, is one of the most tragic parts of Revealed).
The plot gets old. We have all seen it before. Good fights evil. Evil lords over everything. Good fights back and gains upper hand. Evil comes back and takes advantage of situation. Yeah, yeah, yeah. It gets really old. I swear that everything is going to become so predictable. Still, I read this book anyway. Gosh, I must be really interested by the outcome of it all.
Overall, I blah, blah, blah. Just read the first paragraph again. But I will change the rating.
Rating: Two out of Five