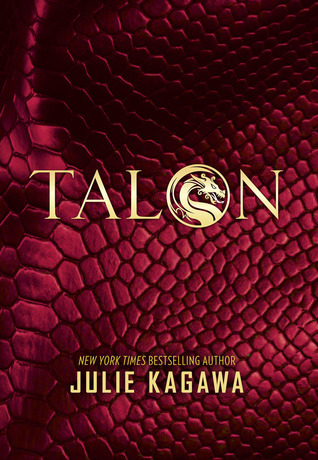 "Long ago, dragons were hunted to near extinction by the Order of St. George, a legendary society of dragon slayers. Hiding in human form and growing their numbers in secret, the dragons of Talon have become strong and cunning, and they're positioned to take over the world with humans none the wiser.





Ember and Dante Hill are the only sister and brother known to dragonkind. Trained to infiltrate society, Ember wants to live the teen experience and enjoy a summer of freedom before taking her destined place in Talon. But destiny is a matter of perspective, and a rogue dragon will soon challenge everything Ember has been taught. As Ember struggles to accept her future, she and her brother are hunted by the Order of St. George.





Soldier Garret Xavier Sebastian has a mission to seek and destroy all dragons, and Talon's newest recruits in particular. But he cannot kill unless he is certain he has found his prey: and nothing is certain about Ember Hill. Faced with Ember's bravery, confidence and all-too-human desires, Garret begins to question everything that the Order has ingrained in him: and what he might be willing to give up to find the truth about dragons."
I have long accepted that whatever Julie Kagawa writes, I will like. Using that fact, you may all presume correctly that I like Talon. (And I really want Rogue, but it seems I have to patiently wait until the release date. April 28! I can't wait.)
Talon is about dragons. YA Paranormal, the book brings a new light on dragons and dragon-hunters. Firelight, written by Sophie Jordan, is very similar to Talon. In my opinion, Talon is better than Firelight with a much better world building and a more seductive conflict. (Also, it is written by Julie Kagawa, so that is a plus.)
Dragons vs. dragon-hunters. The Order of St. George is a group of hunters hunting for dragons. Talon is a group of dragons (and some humans) who seek to ensure the survival of dragons. Pretty straightforward, correct? But it gets complicated...
Ember Hill is a dragon girl whose life has been controlled by Talon. For one summer, she gets a brief taste of freedom. Falling in love with Garret (who is also a hunter from the Order of St. George), she finds herself unable to truly obey Talon. Ember Hill is a great character along with Garret and Riley (the rogue dragon). I can't decide which one of them is my favorite, but each of them is unique in their own way. (Though Riley is similar to Puck from The Iron King.)
Garret is another POV in Talon. Actually, Julie Kagawa writes from Riley, Ember, Garret, and Dante's POV. Each one of them is different in their own way, but Garret's perspective is definitely one of the best in the book. Garret is a the quietest and most serious POV compared to the rest of perspectives. In a way, he is a calmer mind and a good rock. Also, he is perhaps the only voice of reason (though he does do some unreasonable things).
The ending kills me. It kills me. It simply kills me. Kagawa, I am hunting for your next book.
The plot is consistent. It stays quick, and it keeps me on my toes. The pull of the Ember Hill and Garret dynamic simply just entices me. Julie Kagawa's familiar writing style is the same as usual, and it doesn't take long for me to sink in. Talon is a much darker book than The Iron King, perhaps on the same level as The Immortal Rules (maybe a bit less serious than The Immortal Rules).
Overall, Talon is an entertaining and interesting start to a new version of dragons and dragon-hunters. It is a different take on dragons, different from Sophie Jordan's Firelight. Julie Kagawa has yet to reveal the full potential of dragons, and I'm eagerly awaiting the next few installments (please don't give us four books and make the wait so long!). (But on the second thought, more books!) Kagawa brings something old and something new to this version of dragons.
Rating: Five out of Five