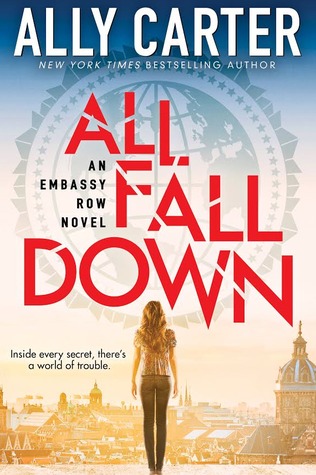 "A new series of global proportions -- from master of intrigue, NEW YORK TIMES bestselling author Ally Carter.





This exciting new series from NEW YORK TIMES bestselling author Ally Carter focuses on Grace, who can best be described as a daredevil, an Army brat, and a rebel. She is also the only granddaughter of perhaps the most powerful ambassador in the world, and Grace has spent every summer of her childhood running across the roofs of Embassy Row.





Now, at age sixteen, she's come back to stay--in order to solve the mystery of her mother's death. In the process, she uncovers an international conspiracy of unsettling proportions, and must choose her friends and watch her foes carefully if she and the world are to be saved."
Ally Carter strikes again.
Who doesn't like Ally Carter? Wait, wait, wait. I have a better question. Who isn't a fan of Ally Carter? I swear that after reading The Gallagher Girls, I am a fan of hers for life. Whatever Ally Carter writes (whether or not it is espionage, heists, or simply contemporary), I'm totally down to reading that stuff.
(And no, I did not rename myself after Ally Carter. My name is the same as hers, but I did not name myself after her. No, I named myself after someone I used to know. Fun fact, I originally named myself "Alice of Wonderland" because of the pop-up book my godmother gave to me.)
All Fall Down doesn't have as much humor (if there are any) as The Gallagher Girls or even Heist Society. In my opinion, All Fall Down is perhaps the most similar to United We Spy and Out of Time, Out of Sight. All Fall Down goes into a much, much darker side of the mind. It is a psychological thriller and also, espionage. The pacing is fast and quick (just like Ally Carter's usual style with The Heist Society), though the writing style is much darker and solemn.
Our star, the army brat, the heroine, and the one who is definitely haunted by her the very memory of her mother, is Grace. Like I said before, Grace is perhaps the darkest (main) character Carter has written. (Well, she definitely is if you take out the older versions of Cammie.) She is a full-rounded character, who is strong and weak, reckless and curious. (Possibly insane and crazy,) she is willing to find the killer of her mother's death (which is believed to be an accident). From the very beginning, one would think that Grace is an unreliable narrator. It turns out she might not be, and then it turns out she might be. What does that mean?
We have to ask ourselves whether or not she is truly insane. And that is perhaps one of the best parts of her character. That knowledge in knowing Grace might be off her pills and ranting off things that aren't true.
The case to find her mother's murderer gets me interested. As the conflict of All Fall Down, it brings more drama to Grace's life. Plus, we get to see (a possible Gallagher Girl) spy in action. So that is a plus! Always nice to see an agent/spy in action. Especially with one using Barbie dolls.
Overall, All Fall Down is an exciting new beginning to a brand new series by Ally Carter. I can't wait to read the next book (and the next, though I hope the release date isn't too far!). All Fall Down is definitely another great (and darker) read with even higher stakes.
Rating: Five out of Five