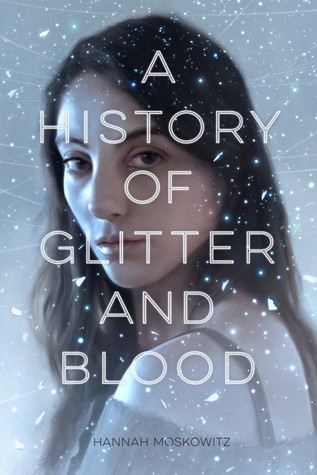 "Sixteen-year-old Beckan and her friends are the only fairies brave enough to stay in Ferrum when war breaks out. Now there is tension between the immortal fairies, the subterranean gnomes, and the mysterious tightropers who arrived to liberate the fairies.





But when Beckan's clan is forced to venture into the gnome underworld to survive, they find themselves tentatively forming unlikely friendships and making sacrifices they couldn't have imagined. As danger mounts, Beckan finds herself caught between her loyalty to her friends, her desire for peace, and a love she never expected.





This stunning, lyrical fantasy is a powerful exploration of what makes a family, what justifies a war, and what it means to truly love."
NetGalley. Thanks for the copy.
Okay, I abandoned A History of Glitter and Blood at the halfway point of the book. No, I don't like abandoning books, but this one I had to. I couldn't get into the book, and I wasn't emotionally invested in it. A good book makes me feel, and this book makes me roll my eyes every so often (yes, it did). Sometimes, I find myself skimming through the words, not really reading anything.
There are some things I most certainly didn't like about the book:
1. The plot. It moves incredibly slow, and I find myself wishing for some action instead of some narration from the narrator. Many parts are thoughts and speculation and there are some reminders to simply get rid of this page and delete some chapters (a bit weird). I know there might be a payoff at the end, but I'm simply too impatient to actually spend the time and find that conclusion (whether good or bad). There is not a spark I can find in the book, and I'm just not interested.
2. Long paragraphs. This has a bit more to do with the writing style. The writing style is awkward, and it doesn't fit comfortably in my head. I simply can't connect to the writing style, and my eyes roll over whenever I read the words.
3. Beckan herself. I simply don't find anything to empathize with her (or any of the characters, to be truthful). I perceive her as a rather cold person who has grown up in a strange childhood.
Things I do like:
1. The world building. The descriptions of this world shows a rather interesting and curious world.
Overall, I can't bring myself to like A History of Glitter and Blood. It seems like a really amazing book, but to me, it isn't.
Rating: One out of Five