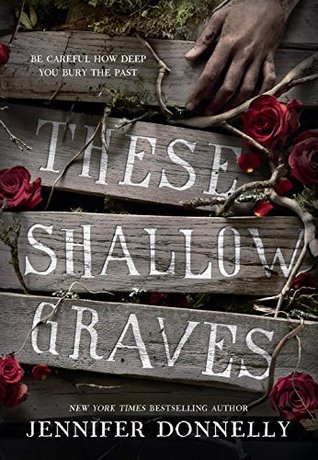 "Jo Montfort is beautiful and rich, and soon—like all the girls in her class—she'll graduate from finishing school and be married off to a wealthy bachelor. Which is the last thing she wants. Jo secretly dreams of becoming a writer—a newspaper reporter like the trailblazing Nellie Bly.





Wild aspirations aside, Jo's life seems perfect until tragedy strikes: her father is found dead. Charles Montfort accidentally shot himself while cleaning his revolver. One of New York City's wealthiest men, he owned a newspaper and was partner in a massive shipping firm, and Jo knows he was far too smart to clean a loaded gun.





The more Jo uncovers about her father's death, the more her suspicions grow. There are too many secrets. And they all seem to be buried in plain sight. Then she meets Eddie—a young, brash, infuriatingly handsome reporter at her father's newspaper—and it becomes all too clear how much she stands to lose if she keeps searching for the truth. Only now it might be too late to stop.





The past never stays buried forever. Life is dirtier than Jo Montfort could ever have imagined, and the truth is the dirtiest part of all."
YABC.
This is for those who are into Historical Fiction, centering on the 19th century. It's close to the time of women's rights. In 1890s, the world for both men and women are evolving. Women test the limits, and the events are crawling towards women's rights. But we aren't there yet (it's only 1890; women's rights happened in 1920), but the book is focusing on Jo Montford who is breaking the existing bonds and becoming truly a modern girl who isn't afraid of the world as most girls (in her time) are.
Perhaps fittingly, Jo's name reminds me of Jo from Little Women. Jo from These Shallow Graves writes for a rather obscure newspaper, and she is just in the very beginning of what may be a very spectacular career as a reporter. She is no novelist, yes, but she, like Jo from Little Women, is breaking what's the norm and not being what is expected of her. She doesn't marry what's good for her family; she marries... Well, we'll see if she gets married.
In the beginning of the story, she is not the prim and proper lady, but she is very close to being one. By the end of the book and after her stunning adventure/investigation ends, her character development marches very far. Dead bodies no longer bother her so much. (I applaud her for not fainting. Or throwing up.)
The mystery is one of the most captivating parts of the book. Jo's father has mysteriously passed away due to a very "accidental" wound made from a bullet. From there, Jo seeks to find the truth and is brushed against danger over and over again. She remains fierce and bold and hard-pressed to find the truth, despite how terrifying it may end up for the entire society (and world).
The romance isn't the main plot, but it does take center stage at some parts. It isn't too overwhelming, but it remains crucial to keep the plot moving and fresh for the readers. Eddie and Jo, together, have a lot of drama that keeps their investigation on shaky legs. It's what happen when romance gets in the way of work.
The villain is one I've not noticed at all, and he is a cunning piece of work. He moves subtlely, and Jo doesn't realize that he has been right in front of her all along...
In conclusion, These Shallow Graves is a mystery story going back to the 19th century and stars a lady who isn't conventional for her time but is becoming quite a modern woman. It's a great story, and even though it's Historical Fiction (aka: back in the past), it'll connect with readers of our days.
Rating: Four out of Five