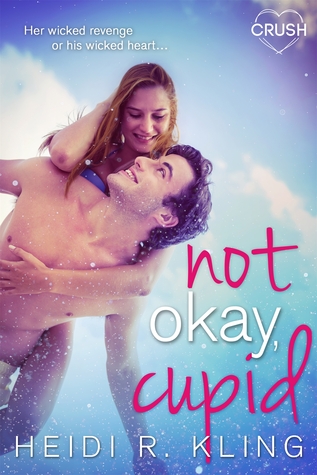 "Her wicked revenge, or his wicked heart...



Hazel McCallister loves her life. Perfect grades. Perfect best friend. Perfect boyfriend. Until her perfect boyfriend cheats on her with her perfect best friend. Now Hazel's in free fall—until her best friend's brother, Felix, gives her the perfect idea. Reclaim her power by taking revenge on her cheating ex.





Felix James loves his life. Casual relationships. Loads of surfing. He's as drama-free as they come. But he can't stand by when his sister steals her best friend's boyfriend, and the dude insists it was Hazel's fault. So Felix vows to help turn Hazel into a girl her ex can't resist—so then she can break his heart.





With an alliance in place, Hazel's revenge is all but assured. But with each piece of payback, she feels a stronger attraction to Felix, even though revenge will turn her into a girl Felix could never be with. And soon Hazel has to make an impossible choice: revenge...or Felix, the boy who's stolen her heart.



WARNING! This book contains betrayal, revenge, and that most tempting vice of all, the bad boy you know you can't have."
NetGalley. Thanks for the copy.
"Everyone hates Donald Trump," says the internal thoughts of the main character, Hazel McCallister. Honestly, at this point I don't care whether or not the book is downright horrible (which it isn't, for your information), I'm giving this book a Five just for saying that. But unfortunately, that's not very positive of me and let's not bring too much politics into this. (And I myself will not bring any more politics into the mix.)
On the scale of 1 to 5, how scalding is the romance/chemistry? I would put it at a mediocre 2. I've seen much better written ones, but when comparing Felix/Hazel to Jay/Hazel, Felix/Hazel is a darn 4 while Jay/Hazel is somewhere between 0 and "in my dreams, he's the perfect guy for Hazel." Still, it's nice to see the friendship side of the endgame pair and they do have their share of sweet, tender moments. And moments of denial.
Told from two perspectives, the story takes the very familiar "pretend to be in a fake relationship to make ex-boyfriend/ex-girlfriend jealous" route and brings it into a high school setting. The conflict is always fun to watch, and Hazel and Felix struggle hard to figure out what they are feeling for one another.
The writing style is simple enough to read and follow along. It doesn't use many flowery language, and it doesn't dive very deeply and dig into characterization of the main characters. There's a lot of telling, especially when it comes to Jay's character. Felix's character is a bit better, leaning towards "showing," but there are still some moments of straightforwardness. I must also point out a few grammatical errors I saw here and there, but they don't interrupt the flow of the story.
The ending, of course, is a sweet HEA. It's a good ending, and it'll leave the readers satisfied with the book. Unfortunately, Felix isn't in a... Oh, I forget myself. Spoilers, as usual. (I must not tell any spoilers.)
In conclusion, Not Okay Cupid is a delightful, light romance for any readers wanting a story to distract them from their day. The conflict is hopelessly cheesy, but it'll bring a smile to anyone's face. It's a much happier story than Kling's other book, Paint My Body Red.
Rating: Three out of Five