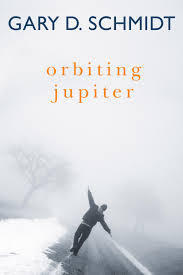 "Jack, 12, tells the gripping story of Joseph, 14, who joins his family as a foster child. Damaged in prison, Joseph wants nothing more than to find his baby daughter, Jupiter, whom he has never seen. When Joseph has begun to believe he'll have a future, he is confronted by demons from his past that force a tragic sacrifice."
I think "WTF" is my prevailing thought while reading this book. The story involves a 14 years old boy who is a father of a young, young daughter. The narrator is Jack, who is Joseph's foster brother and who agrees to help him find his daughter named Jupiter.
Yes. The story is unsurprisingly weird. But original.
The narrator is like Nick from The Great Gatsby. He is an observer but also, at certain points in the book, a participant. (Yes, I'm comparing quite a lot of books to The Great Gatsby, because why not?) But to his foster brother, he is truly a brother who has his back at all times. Together, the two boys search for Jupiter. But Jack's unmistakable tone sets the stage to tragedy and sadness.
Joseph, Jupiter's father, is orbiting Jupiter in a way. (Title drop!) He's a sad character, who has great determination and strength and love, and one just can't help but feel so terrible for him. His past and his actions and his resilience so reminds me of Jay Gatsby. He, like Jay, will go far for the people he loves, and the tragic ending is similar to Jay's. He's one of those characters that I just want to wrap a security blanket around. He needs to be kept warm!
The relationship between Jack and Joseph is heartwarming. They go from "dislike" to true brotherhood. Their friendship is complex, but eventually, Joseph does trust Jack as if they were related to each other by blood and heart. It's a beacon of light for Jupiter's father, but it doesn't save him in the end. (Play Jeff Buckley's "Hallelujah" for a heavy emotional toll.)
The plot is driven by Jack but mostly Joseph who is very determined to find Jupiter and take care of her. The story flows smoothly, a bit lazily for a short book. But thanks to the shortness of the book, the plot doesn't drag on and on and on.
And there's that ending where I like to rage at. The author is great at using few words, but he could have spared some to throw in a few details and clear up the lack of clarity in the ending. Still, nice work and use of words.
In conclusion, Orbiting Jupiter is an unique tale indeed. The characters stand out; the short, almost frugal use of words is noted. If you're looking for a quick, different book without romance, then this is for you. It's reminiscence of Bridge to Terabithia.
Rating: Three out of Five