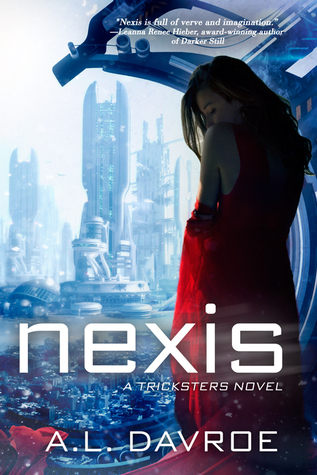 "In the domed city of Evanescence, appearance is everything. A Natural Born amongst genetically-altered Aristocrats, all Ella ever wanted was to be like everyone else. Augmented, sparkling, and perfect. Then…the crash. Devastated by her father's death and struggling with her new physical limitations, Ella is terrified to learn she is not just alone, but little more than a prisoner.





Her only escape is to lose herself in Nexis, the hugely popular virtual reality game her father created. In Nexis she meets Guster, a senior player who guides Ella through the strange and compelling new world she now inhabits. He offers Ella guidance, friendship…and something more. Something that allows her to forget about the "real" world, and makes her feel whole again.





But Nexis isn't quite the game everyone thinks it is.





And it's been waiting for Ella."
YABC.
Love Science Fiction? And romance? And virtual reality? Well, I do too. Nexis has all of that and more. The narrator, Ella, is in a whole haystack of a mess that has landed at her feet, and she is in great danger thanks to her past. So let's dig into Nexis.
Ella is grieving, and she loses herself in the virtual reality game, because her father died and there is nowhere she can go. In the beginning of the book, she wants to be like an aristocrat. She is that outsider who doesn't want to be an outsider anymore, and then, after series of accidents and mishaps, she becomes literally an outsider. Free to be anonymous and just about anyone in the virtual world, she begins to overcome her previous prejudices and develops her own identity outside of society. She finds friends, and she realizes the startling reality around her. Her character development is remarkable and progressive, and she really becomes a new person by the end of the book. Grief doesn't wear her down.
The plot moves steadily throughout the story. It races, and it never allows the readers for a single moment of rest. Though it sometimes runs too quickly for the readers to keep up, it's always possible for readers to double back and check. Of course, the information overload does get a bit irritating, but the information dump isn't too large. (I repeat: Go back and check!)
The romance burns slowly, and Ella and the mysterious guy begin to meet up with each other in the virtual world. Of course, like the internet, the virtual world is a bit anonymous and Ella has no idea who the mystery guy is. (That doesn't stop us, the readers, from guessing his identity. And my goodness, it's a grand surprise.) It's really fun to guess, I assure you all.
The main conflict in the story is most definitely a strange case. It doesn't take center stage, and Ella is preoccupied with a more minor situation before the truth comes rushing at her. The plot majorly drives the book, and the book should have worked more on the world building of the actual world instead of the virtual world.
The true villain, I must say, is a classic version of a well-intentioned extremist. He has some hidden depths, but by the end of the book, he's gone bye-bye. He has that sort of potential worth exploring, and it's a shame that he left too soon.
In conclusion, Nexis is for those who love Insignia and those who enjoy Sci-Fi books with virtual realities. There's a somewhat familiar story being told here yet it comes with a touch of originality. This is a story that action-seekers will love.
Rating: Three out of Five