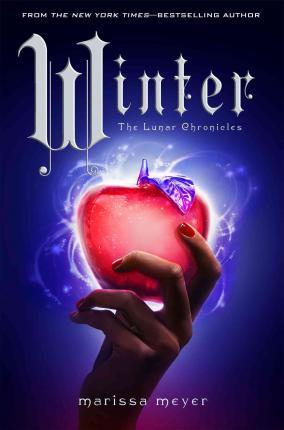 "Princess Winter is admired by the Lunar people for her grace and kindness, and despite the scars that mar her face, her beauty is said to be even more breathtaking than that of her stepmother, Queen Levana.





Winter despises her stepmother, and knows Levana won't approve of her feelings for her childhood friend—the handsome palace guard, Jacin. But Winter isn't as weak as Levana believes her to be and she's been undermining her stepmother's wishes for years. Together with the cyborg mechanic, Cinder, and her allies, Winter might even have the power to launch a revolution and win a war that's been raging for far too long.





Can Cinder, Scarlet, Cress, and Winter defeat Levana and find their happily ever afters?"
Winter. The final book in the Lunar Chronicles. And what do I think about this book? Oh, a lot of things.
First of all, I blame Marissa Meyer very much. On the day I read this book, I was supposed to be finishing up two essays and a few more pieces of homework. Instead, I spent all of the time reading this book. When I was done, I end up having to finish my work in an hour before I went to bed. And all that reading and procrastination made me very grumpy in the morning. But it is very worth it, just because of the book.
Despite my actions, my advice is to read this book of 800+ pages on a freaking weekend than a weekday. Start on Friday night. Then read throughout Saturday and Sunday, if you're a fast reader like me. (I read this in a single day.) Word of warning: This book is very, very addictive.
Let's start with the main character of this story. Of this particular story, that is. And that would be Princess Winter, who is basically the most lunatic lunar who has ever lived. She sees blood where one sees cleanness, and she becomes progressively crazier as the book goes on. Still, it doesn't stop her from kicking a few heads along the way. Though she does get terrorized quite a bit, she always swings back to life (and makes me admire her a bit more). With a little more craziness inside of her head.
Have I mentioned how much I like Jacin? No? Then I guess I should start talking about it. He is really good at having a blank face, and he loves Princess Winter more than he ever should love her. The romance is so cute, and the only romance that tops them is Cinder and Kai. And not by much. (Mostly because Cinder and Kai has been in all four books while Winter and Jacin are only in two-ish.)
The plot has a huge overdose of events. With the sheer amount of events and scenes, Marissa Meyer could have spin three books out of this one. Seriously. It's very complicated and complex. If you dare to write the Wikipedia article's summary of the plot, then I wish you all the luck in the world. I also advise Excel. Very good at recording data, time, and etc.
The ending is definitely a... Oh. Spoilers. Sorry, guys.
Overall, Winter is an awesome book. I'm forever thankful that Marissa Meyer never split this book into three parts. It's a killing conclusion to the Lunar Chronicles, and I, as a not-really-Captain, salute this book.
Rating: Five out of Five