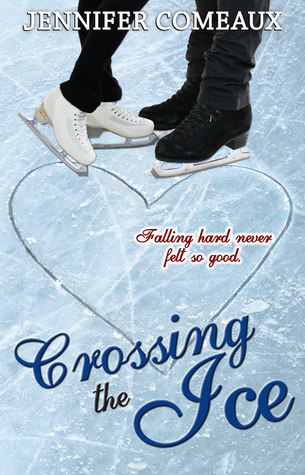 "Falling hard never felt so good.





Pair skaters Courtney and Mark have one shot left at their Olympic dream. They vow not to let anything get in their way, especially not Josh and Stephanie, the wealthy and talented brother and sister team.





The heart doesn't always listen to reason, though…





The more time Courtney spends with sweet, shy Josh, the harder she falls for him. But they are on opposite sides of the competition, and their futures are headed in opposite directions. Will their friendship blossom into more or are their paths too different to cross?"
NetGalley. Thanks for the copy.
I used to ice skate (for single and pair skating) before I was forced to quit (due to medical issues). Because of the years I used to ice skate, I know a lot more about ice skating than the average reader. I was hoping that the book goes into depth for the world building (e.g. begin discussing little things like Axel jump and camel spin and talking how high scores could be), but it didn't. That is a huge disappointment right there.
Let's talk more about the world building. (Alright, I'm a bit peeved by the world building and the lack of details, because ice skating is an amazing sport and it's beautiful. Absolutely gorgeous.) The book doesn't go into the jumps or the spins or the simple parts of the pair skating program. Courtney and Mark are pair skaters. They are close to each other because of what they do. But when Courtney skates with Josh, there should be fireworks and chemistry. Pair skating is very intimate, even in the simplest of touches. It's very unfortunate and a great loss that the author doesn't go into these moments and dive into them.
(On the plus side, I'm very relieved that the author doesn't have her characters do the Pamchenko Twist. I have seen skaters trying to attempt that physically impossible move, and they get hurt. Badly.)
Courtney isn't anything like Kate from The Cutting Edge. (I give points to the author for mentioning that movie. Unfortunately, she doesn't mention The Ice Princess or the sequels of The Cutting Edge. But that doesn't matter very much to the story.) She's willing to work hard to get to the Olympics, and she is determined. A bit paranoid, yes, but the king of paranoia is her partner, Mark. As a narrator, she isn't bad until she starts talking about her skating. Well, she doesn't really narrate her skating experience, to be very, very honest. (A huge disappointment for me!)
The romance is unsurprisingly a huge part of the story. Courtney and Josh are a great couple together, once they start getting to know each other. "Meeting the parents" is always a fun moment, for both sides. However, for Courtney, it's definitely painful. Still, the chemistry is tender but not off the charts.
In conclusion, Crossing the Ice is the light romance that one might read during break time. It isn't anything memorable (but for me, it's absolutely horrifying due to the fact that it barely dives into the wonderful world that is ice skating. It's why I'm giving this book a low rating).
Rating: One out of Five