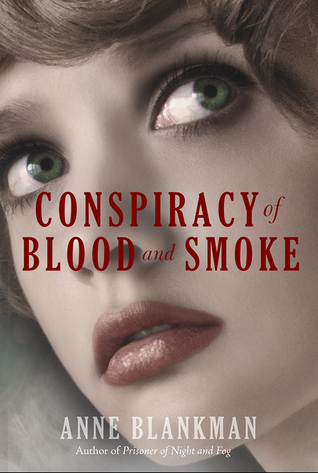 "The girl known as Gretchen Whitestone has a secret: She used to be part of Adolf Hitler's inner circle. More than a year after she made an enemy of her old family friend and fled Munich, she lives with a kindly English family, posing as an ordinary German immigrant, and is preparing to graduate from high school. Her love, Daniel Cohen, is a reporter in town. For the first time in her life, Gretchen is content.





But then, Daniel gets a telegram that sends him back to Germany, and Gretchen's world turns upside-down. And when she receives word that Daniel is wanted for murder, she has to face the danger she thought she'd escaped-and return to her homeland.





Gretchen must do everything she can to avoid capture and recognition, even though saving Daniel will mean consorting with her former friends, the Nazi elite. And as they work to clear Daniel's name, Gretchen and Daniel discover a deadly conspiracy stretching from the slums of Berlin to the Reichstag itself. Can they dig up the explosive truth and get out in time-or will Hitler discover them first?"
Alright. Here we go.
Historical Fiction involving the late 1930s to World War II (Europe) rarely disappoint me, and Conspiracy of Blood and Smoke proves to be no exception to that rule. Conspiracy of Blood and Smoke would be for those who love a fictional account of what happened in Germany before World War II. My favorite part of this book would most definitely be when fiction and fact begins blending together to make up the background of this story.
The narrator, Gretchen Whitestone finds herself easily settled in England as a German immigrant. But when Daniel travels back to Germany and finds himself in some nasty troubles, Gretchen is quick to follow him. But she finds a Germany that is moving closer and closer into the grips of one Adolf Hitler. What started out as a search for her lost boyfriend (did they use the labels of boyfriend and girlfriend back then?) is now becoming a race to stop Hitler from gaining more power and becoming one of the most frightening and sociopathic dictators of all time.
Of course, we all know how this ends. And that brings us to the historical facts, the world building, and historical notes in this book. I don't know how much is accurate, because I haven't studied Germany and its pre-World War II years in depth, but the book definitely has some basis in truth while taking a huge swan dive into fictional aspects.
The plot starts off on a normal day. Everything is happy, and everyone is pretty much ignoring the rise of Adolf Hitler on the other side of the English Channel. (Wait, I think that's wrong. More like the other side of Europe...?) But as soon as Gretchen goes back to Germany, everything starts burning. For all the wrong reasons. Germany is not what it used to be, Jews are being persecuted and hunted down like dogs, and [one group of people] has irrational fear of [insert other group of people]. And dang, it is a really killing introduction to the horrible nightmare that Gretchen is living in.
The ending is right on the edge of the start of Hitler's push for more power. I mean, power outside of Germany. International power (meaning he is eyeing another nation), and I can't wait to see what Anne Blankman brings next. Another adventure of Gretchen, please!
Overall, Conspiracy of Blood and Smoke is a very entertaining sequel. I most definitely can't wait for more, assuming if there will be any sequels. The journey of Gretchen and Daniel are captivating to read. This is definitely for fans who enjoy World War II historical fiction.
Rating: Four out of Five