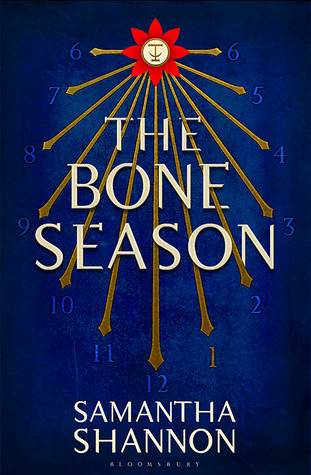 "The year is 2059. Nineteen-year-old Paige Mahoney is working in the criminal underworld of Scion London, based at Seven Dials, employed by a man named Jaxon Hall. Her job: to scout for information by breaking into people's minds. For Paige is a dreamwalker, a clairvoyant and, in the world of Scion, she commits treason simply by breathing.





It is raining the day her life changes for ever. Attacked, drugged and kidnapped, Paige is transported to Oxford – a city kept secret for two hundred years, controlled by a powerful, otherworldly race. Paige is assigned to Warden, a Rephaite with mysterious motives. He is her master. Her trainer. Her natural enemy. But if Paige wants to regain her freedom she must allow herself to be nurtured in this prison where she is meant to die.



The Bone Season

introduces a compelling heroine and also introduces an extraordinary young writer, with huge ambition and a teeming imagination. Samantha Shannon has created a bold new reality in this riveting debut."
I'm very upset with this book. So angry, seeing red in my vision. That level of angry. It's like Red Queen all over again. Why? This book, The Bone Season, is published in 2013. Its sequel, The Mime Order, has been released in 2015. And! Just wait, just wait. There are five, yes, five more books coming after The Mime Order. I'm tearing my hair out, and I'm seriously regretting my decision to read this book in the first place.
Why? Just why!?!
I don't know. It must be because I'm very stupid enough to actually put myself in this situation. Or maybe it is because I'm a masochist. First, Red Queen. Now this. But let's get to the story. I know that I'm sending my agony all over the web.
Paige Mahoney is a clairvoyant, specifically a dreamwalker. She uses her abilities illegally, and she knows fully well that if she is caught, she is dead. Working for an equivalent of a mob boss, she does interesting things that normal people wouldn't do. And boy, it is when she is caught when things start looking very dangerous for her. She has a strange relationship with her master, Warden, and she doesn't really trust him. It's a curious bond between the two of them, and I love it. (It is so delicious to read about; I'm not joking about that.) Seeing that trust build... It's so sweet.
The plot is spinned wonderfully, and I enjoy the plot twists here and there. It's a story I buckle up and read to. The world building is intriguing, but I wish that the author defines some terms in the middle of the dialogue or in the exposition. It isn't until the end of the book when I find the very helpful glossary. (I know, I know. I should have checked, but I never like accidentally reading the end of the book.)
The main villain of The Bone Season needs some more development. Though her relationship with Warden hasn't been spotlighted yet, I'm hoping that she turns out to be more than that usual evildoer looking for world dominion. We'll see, of course. There are six more books in this series.
Overall, The Bone Season is one agonizing story. Why? Because there is a very long wait, and I don't even know when the third book is coming out. I have come to the conclusion of severely regretting reading this book, not because of dislike, but because of how much I like this book. It heavily reminds me of Uprooted.
Rating: Four out of Five