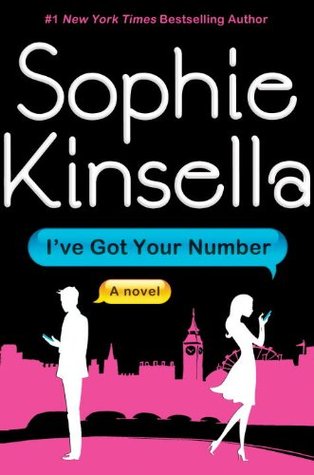 "I've lost it. :( The only thing in the world I wasn't supposed to lose. My engagement ring. It's been in Magnus's family for three generations. And now the very same day his parents are coming, I've lost it. The very same day! Do not hyperventilate, Poppy. Stay positive :) !!





Poppy Wyatt has never felt luckier. She is about to marry her ideal man, Magnus Tavish, but in one afternoon her "happily ever after" begins to fall apart. Not only has she lost her engagement ring in a hotel fire drill but in the panic that follows, her phone is stolen. As she paces shakily around the lobby, she spots an abandoned phone in a trash can. Finders keepers! Now she can leave a number for the hotel to contact her when they find her ring. Perfect!





Well, perfect except that the phone's owner, businessman Sam Roxton, doesn't agree. He wants his phone back and doesn't appreciate Poppy reading his messages and wading into his personal life.





What ensues is a hilarious and unpredictable turn of events as Poppy and Sam increasingly upend each other's lives through emails and text messages. As Poppy juggles wedding preparations, mysterious phone calls, and hiding her left hand from Magnus and his parents . . . she soon realizes that she is in for the biggest surprise of her life."
I've Got Your Number is another Chick-lit novel written by Sophie Kinsella. I'm not sold on Can You Keep a Secret? But I'm definitely sold by this book, I've Got Your Number.
(Note: I'm hearing Carly Rae Jepsen's "Call Me Maybe" in my head. I blame no one except myself. And my playlist.)
Poppy Wyatt lost her very expensive engagement ring. Frantic, worried, and absolutely crazed by her ring's sudden disappearance, she finds an abandoned phone in the trash. Giving all her friends her new number, she eagerly awaits for a call telling her that they have found her ring. Sure enough, they will find it, right? But... She has a little problem. The new phone she found is a company phone which used to belong to Sam Roxton's PA (personal assistant). Making a deal with him, she keeps the phone until her engagement ring is found.
Of course, there are a few problems... For example, Poppy has this habit of nosing into other people's business. She messes with Sam's life and professional career by sending some terrible but also personalized text messages. But I'll give her a little slack. She isn't a corporate-climbing machine. She is a physiotherapist and not at all familiar with corporate politics. Physiotherapist is a physical therapist in American speak. (Though if you and I really want to talk about this, physiotherapist is more specialized than simply just "physical therapist.")
Sam Roxton is not amused with Poppy's antics. A serious and excellent businessman, he is short on words and has little time to deal with things. His PA manages his life, and phones remain crucial to his business. He can hardly care what people think of himself as long as he gets the job done. But as he gets to know Poppy, he maybe starts to feel and care a little bit. (And it is so squeal-worthy to see that subtle character development. Beautiful.)
The humor. Still embarrassing, but not on the levels of Can You Keep a Secret? Some humor and jokes is made at Poppy's expense, and I have concluded that Sophie Kinsella is excellent at making embarrassing moments and creating almost cringe-worthy scenes.
In conclusion, I've Got Your Number is a vast improvement over Can You Keep a Secret? With a more developed cast of characters and a more awesome heroine (over Emma, in my opinion), I think this book is a keeper.

Rating: Four out of Five